Ethiopia with Danakil Depression and Djibouti (16 days)
About this Tour:
An adventure expedition to some of the most surreal landscapes in the world. We start off in the Ethiopian highlands before going for several days into the desert. Incredible highlights lie ahead of us, such as the ascent of Erta Ale volcano with overnight camping at the rim of the crater, the surreal landscapes of Dallol, the salt mining at lake Afrera, lake Assal, the lowest point on the African Continent or the abstract lime stone chimneys around lake Abbe. After a few hot days in the desert, we recover at the pristine white sand beaches of the Gulf of Djibouti with a good chance to encounter whale sharks, which gather here every year between October and February. On our way back from Djibouti to Addis Ababa, we cross Eastern Ethiopia, where amongst other we will visit fascinating holy town of Harar or the Awash National Park.  
Highlights:
Crossing of the Ethiopian highlands with a visit to Senbete market
Expedition into the Danakil depression with ascent of Erta Ale volcano and overnight camping at the rim of the crater
Surreal landscapes of Dallol
Lake Assal, the lowest point on the African Continent,
Fascinating landscape around lake Abbe in the desert of Djibouti
Snorkelling with whale sharks in the Gulf of Djibouti
City Tour of Djibouti
Visit of Harar (UNESCO world heritage site) with legendary hyena feeding at night
Overnight at Awash National Park
Short Info:
Tour code: WET-ED-17
Time: October – February
Next date for seat-in group tour (max. 8 Pax): 27.10. – 12.11. 2018
Number of domestic flights: 0
Overnight: simple hotels / lodges or camping
Required fitness level: reasonably fit and good heat tolerability
Day 1: Arrival in Addis Ababa and City Tour
Upon arrival at Bole International Airport you will be met by a Welcome Ethiopia Tours representative and be taken to your reserved hotel. Depending on your arrival time, we have various sightseeing options:
Mount Entotowith the best views over the capital.
Institute of Ethiopian Studies, where you can see a variety of artifacts from all the different regions reflecting the history and culture of the country
National Museum which among other exhibits the 3.5-million-year-old bones of Lucy.
George Cathedral, where paintings by the famous Ethiopian artist Afework Tekele and other ecclesiastical wealth and cultural heritage of the past are displayed.
Trinity Cathedral: this is the burial place of members of the imperial family and noted patriots; the cathedral is the most magnificent of its kind in the country, ornamented with carvings, mosaics and other artistic works.
The Mercato, the largest open-air market in Africa
Accommodation: Lobelia Hotel or similar, Addis Abeba (www.hotellobeliaaddis.com)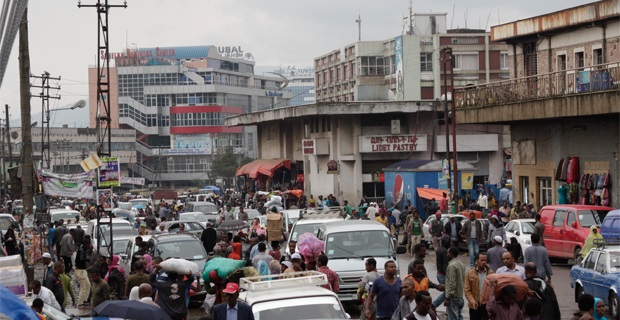 Day 2: Addis Ababa – Senbete Market – Dessie (383 km)
Morning/ Afternoon:
Early in the morning, we start our drive to Dessie (approx. 8h). We will make a stop at the Senbete market (Sundays only). The market is frequented by different ethnic groups such as Oromo, Afar and Amhara and is one of the most authentic and colourful markets in Ethiopia. It also has a dedicated area for the trade of livestock, particularly camels, cattle and donkeys. In the late afternoon, we will arrive in Dessie, where we will spend the night.
Hotel: Melbourne Hotel or similar
Day 3: Dessie – Woldyia –  Mekelle (375 km)
 Morning /Afternoon:
Today we continue our journey from Dessie via Woldyia to Mekelle (driving time approx. 8h). After arrival in Mekelle in the afternoon, we still have sufficient time to buy stocks for tomorrow's expedition into the Danakil dessert.
Hotel: Axum Hotel or similar, Mekelle (www.axum-hotels.com)
Day 4: Mekelle – Hamed Ela (160 km)
Today we start our expedition into the Danakil depression via Berhale to Hamed Ela (approx. 3-4 hours). Here starts one of the world's most inhospitable yet most spectacular regions, full of intense colours and eye-catching sights. Several locations are more than 100m below sea level. In Berhale we will see the huge camel caravans resting on their way to the highlands. Our destination of the day is Hamed Ela, where, in the afternoon, we can observe how the salt is excavated from the ground, cut in to rectangular pieces and loaded onto the caravans.
 Overnight: Camping in Hamed Ela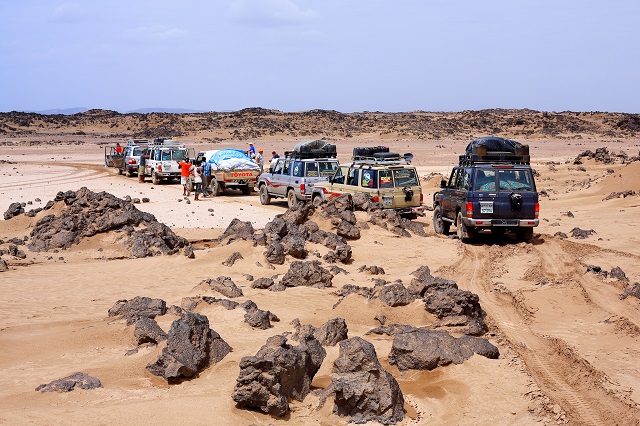 Day 5: Hamed Ela – Dallol – Aba Ala (90 km)
Morning:
We start early in the morning to explore the unbelievable landscapes around Dallol and Lake Assal. Dallol lies 116 meters under sea level turning it into one of the lowest and hottest places on earth. The Dallol volcano is covered by a thick layer of salt, however, it still shows its presence through bizarre salt formations, hundreds of fumaroles (escapes of gas) as well as acid lakes in all colours.
Afternoon:
We drive from Dallol to the Afar village of Aba Ala (approx. 3 hours).
Overnight: Basic guesthouse or camping in Aba Ala
Day 6: Aba Ala- Kursuwat- Dodoma- Erta Ale volcano (140 km)
Morning:
After breakfast, we continue to Kursuwat, where we will process our permit to climb Erta Ale. We then continue to the Afar village of Dodoma, the starting point of our trekking to the Erta Ale volcano.
Afternoon:
We will have an early dinner and will start trekking up to Erta Ale after sunset. The trekking will take us 3-4 hours. Camels will transport our camping materials and food to the rim of the volcano, where we will spend the night watching the dramatic action of the boiling lava. Erta Ale is 613 meters high and ranks as one of the most alluring and physically challenging natural attractions in Ethiopia. It is a shield volcano with a base diameter of 30 km and a 1km square caldera at the summit containing the world's only permanent lava lake.
 Overnight: Camping at the rim of the crater of Erta Ale Volcano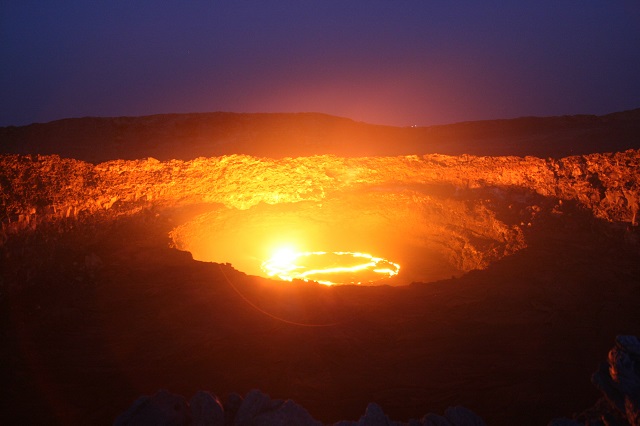 Day 7: Erta Ale Volcano– Lake Afrera– Semera (210 km)
Morning:
After a spectacular sunrise over the lava lake we start our descent down to the vehicles from where we will continue to lake Afrera. Here we can not only admire the traditional way of the local salt mining but also freshen up and recover from the trekking in the hot springs.
Afternoon:
We continue southward to Semera, now again on a well paved road.
 Overnight: Hotel in Semera
Day 8: Semera – Gelafi – Lake Abbe (285 km)
Morning: Semera – Gelafi (115 km)
We drive from Semera to Gelafi, where we will cross the border into Djibouti. After we have completed customs formalities, we will recruit our navigator in Dikhil for the off-road track through the desert until we will reach Lake Abbe.
Afternoon: Dikhil – Lake Abbe (160 km)
The distance to be covered until Lake Abbe is 160 km, 70 km of which are off-road. We will enjoy a spectacular sunset over the surreal landscape around Lake Abbe formed by the elevation of countless lime stone chimneys.
 Overnight: Lake Abbe Lodge, Lake Abbe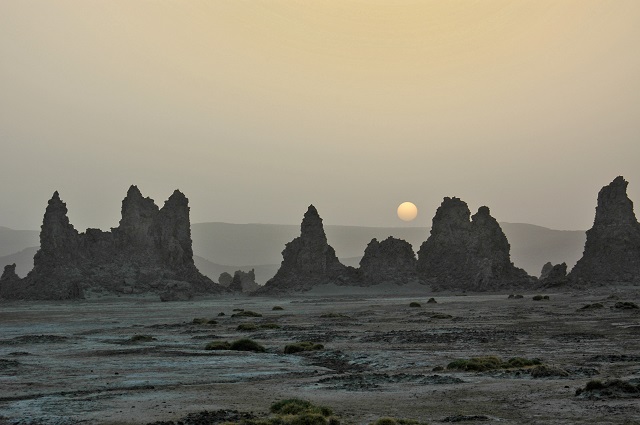 Day 9: Lake Abbe – Lake Assal – Tadjoura (155 km)
Morning:
Early in the morning we will have a short trek through the limestone chimneys around Lake Abbe. With a little luck, we will also encounter huge flocks of flamingos. We then continue to Lake Assal (110 km), one of the saltiest lakes on earth and also the lowest point on the African Continent (-153m). We will enjoy a fantastic bath in Africa's "Dead Sea".
Afternoon:
We have 45 km of good paved road ahead until we reach the small coastal town of Tadjoura at the Gulf of Djibouti.
 Overnight: Hotel Le Golf or similar, Tadjoura
Day 10: Beach day "White Beach" near Tadjoura
Today we relax the whole day on the pristine "White Beach" near Tadjoura. Well-deserved after the hot days in the dessert. We will spend the night in a basic guest house on the beach.
 Overnight: Basic Guesthouse, White Beach
Day 11: Tadjoura – Djibouti (175 km)
Morning:
We drive along the idyllic Gulf of Djibouti until reaching Djibouti City.
Afternoon:
We visit Djibouti City and its interesting market. We will also arrange our boat trip for the next day to swim with the whale sharks. Certainly, another incredible highlight of this trip.
 Overnight: Menelik Hotel, Djibouti City
Day 12: Swimming with Whale Sharks
Today is fully dedicated to these huge and gentle inhabitants of the sea. We embark on a boat trip from Djibouti and have a good chance to swim and snorkel with these stunning creatures. A truly unforgettable experience.
 Overnight: Menelik Hotel, Djibouti City
Day 13: Djibouti – Dire Dawa (380 km)
We depart early in the morning from Djibouti City and cross the Grand Barra plains until reaching the Ethiopian border in Dewele. Back in Ethiopia, we continue to Dire Dawa, where we will spend the night. Total driving time will be approx. 8 hours.
 Hotel: La Duchesse Hotel or similar, Dire Dawa
Day 14:  Dire Dawa –  Harar (60 km)
Morning / Afternoon:
Driving from Dire Dawa to Harar will take us less than 1 hour. We then start our discovery of the 16th century walled city of Harar, the fourth most important city in the Islamic World and a UNESCO world heritage site. It feels as if time has stood still here. We will visit the home of Arthur Rimbaud, renowned French poet who lived in Harar, the National and Harari museums; the house of Ras Mekonnen (the father of Haile Selassie); traditional Harari homes and many more interesting places.
Evening:
In the evening we will see the "Hyena Man" feeding the hyenas that gather nightly in the town. With a little courage, you may of course also feed the hyenas yourself. One more incredible experience on this trip!
Hotel: Wonderland Hotel or similar, Harar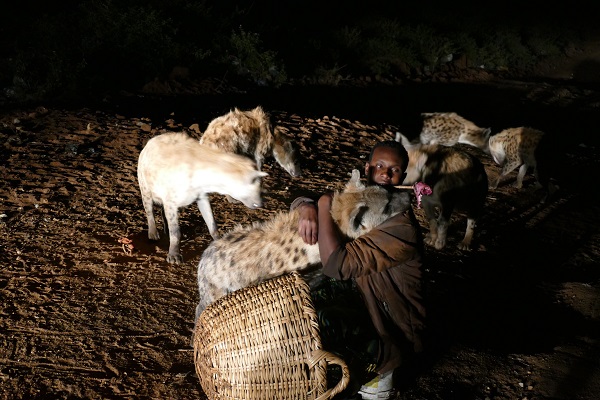 Day 15: Harar – Awash National Park (328 km)
After breakfast, we start our drive to the Awash National Park (approx. 7 hours). We will reach the lodge, located next to the Awash Falls, in the late afternoon. Here we have the opportunity to spot a great variety of birds and mammals in the savanna as well as crocodiles living at the river. We will enjoy an impressive sunset over the Awash gorge
Overnight: Awash Falls Lodge, Awash National Park (www.awashfallslodge.net)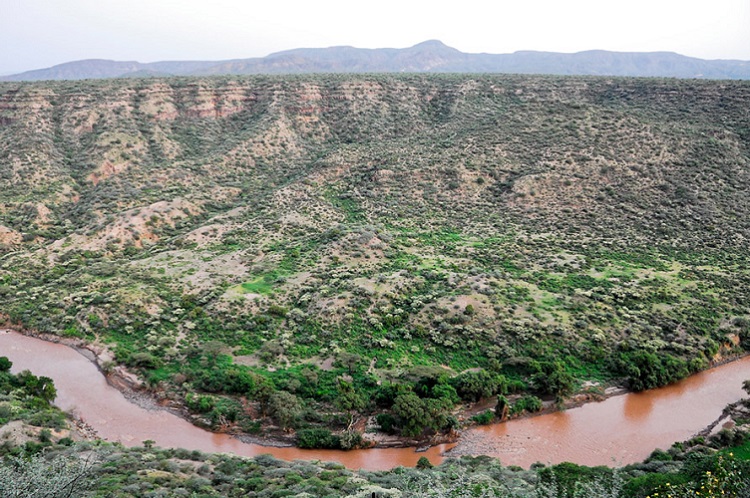 Day 16: Awash National Park – Addis Ababa (215 km)

Morning:
Our final day of the tour starts with a game drive and after our breakfast we leave for Addis Ababa (approx. 4 hours.)
Afternoon:
A day room in Addis Ababa is reserved for you.
Evening:
In the evening you will be invited to a memorable farewell dinner in one of Addis Ababa's traditional restaurants with cultural songs, dances and traditional food and drinks. You will then be transferred to Bole International Airport or, if you continue your stay in Ethiopia, to your reserved hotel.
Departure or individual extension