Northern Ethiopia and Danakil Depression (13 days)
About this Tour:
This tour combines Northern Ethiopia's classic "Historic Route" and the Simien Mountains with a 3-day expedition to the Danakil Depression. You will explore breath-taking landscapes, spectacular natural wonders, diverse flora and fauna, unique cultural heritage sites and authentic everyday life. You will experience an enormous diversity between the lush, green highlands and the surreal dessert landscapes.
Highlights:
Blue Nile Falls, Bahir Dar
Boat trip on lake Tana with unique island monasteries and nature (animal viewing- and excellent birding)
Former imperial town of Gondar (UNESCO world heritage site)
Breath-taking landscapes of the Simien Mountains with numerous endemic animals (UNESCO world natural site)
Former imperial town of Axum with many relics of a several thousand-year-old civilizations (UNESCO world heritage site)
Famous Rock-hewn churches of Tigray in the Gheralta mountains
3- day expedition into the Danakil depression with visit to Dallol and ascent of Erta Ale Volcano
Lalibela, the unofficial 8th wonder of the world (UNESCO world heritage site)
Short Info:
Tour code: WET-NEDD-13
Time: October – April
Next date for seat-in group tour (max. 8 Pax): 17.02. – 01.03. 2018
Overnight: basic hotels / camping under the stars in the Danakil depression
Number of domestic flights: 2
Required fitness level: reasonably fit and heat tolerability
Day 1: Arrival in Addis Ababa and City Tour
Upon arrival at Bole International Airport you will be met by a Welcome Ethiopia Tours representative and be taken to your reserved hotel. Depending on your arrival time, we have various sightseeing options:
Mount Entotowith the best views over the capital.
Institute of Ethiopian Studies, where you can see a variety of artifacts from all the different regions reflecting the history and culture of the country
National Museum which among other exhibits the 3.5-million-year-old bones of Lucy.
George Cathedral, where paintings by the famous Ethiopian artist Afework Tekele and other ecclesiastical wealth and cultural heritage of the past are displayed.
Trinity Cathedral: this is the burial place of members of the imperial family and noted patriots; the cathedral is the most magnificent of its kind in the country, ornamented with carvings, mosaics and other artistic works.
The Mercato, the largest open air market in Africa
Hotel: Lobelia Hotel or similar, Addis Abeba (www.hotellobeliaaddis.com)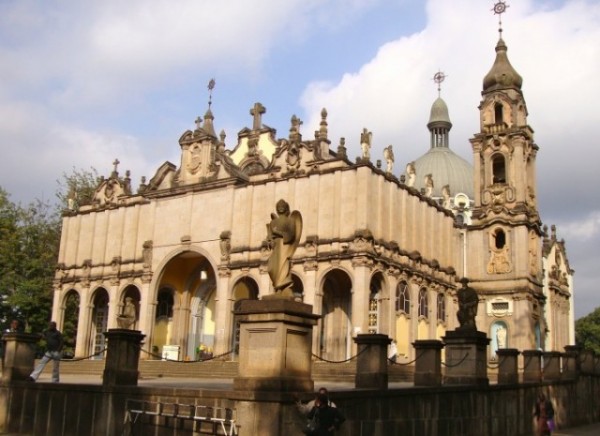 Day 2: Addis Ababa – Bahir Dar (flight)
Morning:
In the morning, you will fly together with your guide to Bahir Dar, where you will be picked up by your driver and taken to your hotel. We then undertake a boat trip on lake Tana to explore the nearby monastery of Ura Kidane Mihret on the Zeghie peninsula, known for its 14th century, round, grass-roofed churches and their magnificent wall murals, the Azoa Mariam and Ura Kidane Mihret churches. Its architectural styles with mud plastered round wall and a conical thatched roof are typical examples of ancient Ethiopian orthodox churches. The monastery is found hidden in the forest of the Zege peninsula. Ura is especially well known for its fine frescoes, manuscripts, ecclesial objects, such as the crown of various emperors dating from the 14th century, gold and silver processional crosses, silver drums and royal vestments. On our walk through the densely-forested area we hope to encounter monkeys and abundant bird life. On the lake, you will also have a chance to see hippos and more wildlife.
Afternoon: Visit to the Blue Nile Falls
After lunch we will visit to the magnificent Blue Nile Falls. The water plunges here for 45m (148ft). It is about 35km/1hour drive from town. In the later afternoon, we drive back to Bahir Dar and discover the market, where you may purchase handicrafts like jewellery, woven and embroidered garments, ox-horn cups or grass baskets (Agelgil), for which Bahir Dar is well known, or simply watch the indigenous culture of the local community
 Hotel: Jacaranda Hotel or similar, Bahirdar (www.jacarandahotelbahirdar.com)
Day 3: Bahir Dar – Gondar (170 km)
Morning:
After breakfast we drive to Gondar, a 17th century royal city of Ethiopia, affluent in the imperial structure of a Castle Compound and the spectacularly painted Debre Birhan Selassie Church.
Afternoon:
After lunch, we visit to the royal enclosures of Fassil Ghibe and all the castles of the Gonderian emperors as well as the famous Debre Berhan Selassie Church, which is completely covered in murals, with the angels' faces on the wooden ceiling that have become a trademark of Ethiopian art and design.
 Overnight: Fasil Lodge or similar, Gondar (www.lodgefasil.weebly.com)
Day 8: Mekelle – Erta Ale volcano (320 km)
Morning:
After breakfast, we will start our expedition to the Danakil depression driving to the Afar village of Dodoma, the starting point of our trekking to the Erta Ale, approx. 17 km away from the volcano.
Afternoon:
We will have an early dinner and will start trekking up to Erta Ale after sunset. The trekking will take us 3-4 hours. Camels will transport our camping materials and food to the rim of the volcano, where we will spend the night watching the dramatic action of the boiling lava. Erta Ale is 613 meters high and ranks as one of the most alluring and physically challenging natural attractions in Ethiopia. It is a shield volcano with a base diameter of 30 km and a 1km square caldera at the summit containing the world's only permanent lava lake.
Overnight: Camping at the rim of the crater of Erta Ale Volcano
Day 9: Erta Ale Vulkan – Lake Afrera – Hamed Ela
Morning:
After a spectacular sunrise over the lava lake we start our descent down to the vehicles from where we will continue to lake Afrera. Here we can not only admire the traditional way of the local salt mining but also freshen up and recover from the trekking in the hot springs.
Afternoon:
We continue to Hamed Ela, where we will spend the night.
Overnight: Camping under the stars, Hamed Ela
Day 10: Hamed Ela – Dallol – Wukro (120 km)
Morning: We start early in the morning to explore the unbelievable landscapes around Dallol and lake Assal. Dallol lies 116 meter under sea level turning it into one of the lowest and hottest places on earth. The Dallol volcano is covered by a thick layer of salt, however, it still shows its presence through bizarre salt formations, hundreds of fumaroles (escapes of gas) as well as acid lakes in all colours. Afternoon: It is slowly time for us to leave the desert. We start our drive back and in the late afternoon reach the highlands around Wukro. We will spend the night in the newly built Wukro lodge located in a superb area.
Overnight: Wukro Lodge, Wukro (www.wukrolodge.com)
Day 11: Wukro – Lalibela (450 km)
Morning / Afternoon:
Today we continue our drive through ever changing landscapes to Lalibela (approx. 8 hours). We will reach Lalibela in the late afternoon.
Overnight: Top 12 Hotel or similar, Lalibela (www.toptwelvehotel.com)
Day 12: Full Day in Lalibela
We will visit the 11-renowned rock hewn churches of Lalibela, also known as the "8th wonder of the world". The Lalibela rock hewn churches are physically carved from the rock on which they stand. These towering edifices seem to be a superhuman creation in scale, workmanship and concept. Some are sculptured out of a solid volcanic rock, others are connected by long underground tunnel and mazes. Some are quarried enlargements of caves. The first group of six churches lies in rock cradles, one behind the other: Bet Golgotha, Bet Mikeal, Bet Mariam, Bet Maskel, Bet Dangal and Bet Medhanealem. Bet Medhanealem, the largest rock hewn church in the world is built like a Greek temple.
Afternoon:
After lunch, we will visit to the second group of churches located to the south of the river Jordan. The second group comprises Bet Giyorgis, possibly the most elegant of all the Lalibela churches. Bet Giyorgis lies somewhat isolated to the southwestern part of the village on a slopping rock terrace and can only be reached through a tunnel. The group of four churches, south of the river Jordan river, comprises Bet Emanuel, Bet Mercurios, Bet Aba Libanos and Bet Gabriel and Rufeal. Bet Emanuel' s elaborated exterior has been much praised by international art historians.
 Hotel: Top 12 Hotel or similar, Lalibela (www.toptwelvehotel.com)
Day 13: Lalibela – Addis Ababa (Flight)
Morning:
Depending on the flight times, we could visit the Ne'akuto Le'ab Monastery outside the town.
Afternoon:
You will be picked up at Bole International Airport in Addis Ababa and taken to your hotel. According to your interests, there are various sightseeing and shopping opportunities.
Evening:
In the evening you will be invited to a memorable farewell dinner in one of Addis Ababa's traditional restaurants with cultural songs, dances and traditional food and drinks. You will then be transferred to either Bole International Airport or, if you continue your stay in Ethiopia, to your reserved hotel.
Departure or individual extension