Addis Ababa & Lalibela (5 days)
About this Tour:
This tour is ideal for travellers passing through Ethiopia who would like to get a glimpse of Ethiopia's capital and explore the world-famous rock-hewn churches of Lalibela as well as the impressive nearby monasteries of Yemrehanna Kristos, Asheton Maryam and Ne'akuto Le'ab. Lalibela is the most visited site of interest in Ethiopia, and this is not without reason!
Highlights:
The highlights of the capital city Addis Ababa
Rock-hewn churches of Lalibela, the unofficial 8th Wonder of the World (UNESCO world heritage site)
12th century cave monastery of Yemrehanna Kristos
Mountain monastery of Asheton Maryam with fantastic panoramic views over the region of Lalibela
Cave monastery of Ne'akuto Le'ab
Included in the travel price
2 nights with breakfast in hotel of your choice in Addis Ababa
2 nights with breakfast in hotel of your choice in Lalibela
Road Transfer in Toyota minibus or 4x4 Landcruiser
Professional tour guide (English, German, French, Italian or Spanish-speaking available)
All local guides,
All entrance fees
Traditional dinner on the last evening before departure
1 liter of mineral water per day
Short Info:
Tour code: WET-AALA-5
Hotel standard: may be chosen as medium or superior
Number of domestic flights: 2
Required fitness level: no requirements
Day 1: Arrival in Addis Ababa and City Tour
Upon arrival at Bole International Airport you will transferred to your reserved hotel. Depending on your arrival time, we have various sightseeing options:
Mount Entotowith the best views over the capital.
Institute of Ethiopian Studies, where you can see a variety of artifacts from all the different regions reflecting the history and culture of the country
National Museum which among other exhibits the 3.5-million-year-old bones of Lucy.
Trinity Cathedral: this is the burial place of members of the imperial family and noted patriots; the cathedral is the most magnificent of its kind in the country, ornamented with carvings, mosaics and other artistic works.
The Mercato, the largest open-air market in Africa
Accommodation: Hotel, Addis Ababa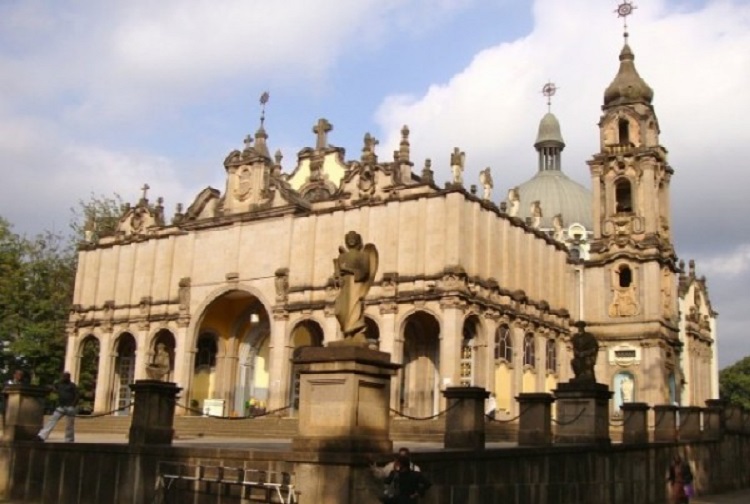 Day 2: Addis Ababa – Lalibela (flight)
After breakfast, you will be transferred to the airport for your morning flight to Lalibela. You will be picked up at Lalibela airport and be transferred to your hotel. We will then start our visit of the 11-renowned rock hewn churches of Lalibela, also known as the "8th wonder of the world". The Lalibela rock hewn churches are physically carved from the rock on which they stand. These towering edifices seem to be a superhuman creation in scale, workmanship and concept. Some are sculptured out of a solid volcanic rock; others are connected by long underground tunnel and mazes. Some are quarried enlargements of caves. The first group of six churches lies in rock cradles, one behind the other: Bet Golgotha, Bet Mikeal, Bet Mariam, Bet Maskel, Bet Dangal and Bet Medhanealem. Bet Medhanealem, the largest rock hewn church in the world is built like a Greek temple.
After lunch, we will visit to the second group of churches located to the south of the river Jordan. The second group comprises Bet Giyorgis, possibly the most elegant of all the Lalibela churches. Bet Giyorgis lies somewhat isolated to the southwestern part of the village on a slopping rock terrace and can only be reached through a tunnel. The group of four churches, south of the river Jordan river, comprises Bet Emanuel, Bet Mercurios, Bet Aba Libanos and Bet Gabriel and Rufeal. Bet Emanuel's elaborated exterior has been much praised by international art historians.
Accommodation: Hotel, Lalibela
Day 3: Fascinating surroundings of Lalibela
Morning:
If you wish you may spend some more time exploring the rock-hewn churches. Alternatively, we can take an excursion to the Asheton Maryam Monastery, spectacularly located at 3'200 m above sea level) offering panoramic views over the beautiful surrounding landscapes.
Afternoon:
After lunch we will visit the fascinating cave church of Yirmahne Kristos dating from the 11th century. Driving through the local villages located in scenic landscape will take us 2 hours each way.
Accommodation: Hotel, Lalibela
Day 4: Lalibela – Addis Ababa (flight)
Morning:
Depending on the flight times, we can also visit the interesting Ne'akuto Le'ab Monastery outside the town of Lalibela before boarding your flight to Addis Ababa.
Afternoon:
Upon arrival in Addis Ababa, you will be transferred from the airport to your hotel. According to your interests, there are various sightseeing and shopping opportunities. In the evening you are invited to a memorable farewell dinner in one of Addis Ababa's traditional restaurants with cultural songs, dances and traditional food and drinks. After dinner you will be transferred back to your hotel.
Accommodation: Hotel, Addis Ababa
Day 5: Addis Ababa (Departure)
You will be transferred to the airport for your international departure