Trekking to Ras Dashen in the Simien Mountains (9 days)
About this tour:
More than a dozen 4'000-metre peaks in an area of just under 200 km2, the Simien Mountains boast dramatic rocky outcrops and cliffs, waterfalls, wide plains, volcanic cones and mountain plateaus. Moss-covered forests and grain fields dominate the valley plains. The Simien Mountains National Park is a true paradise for hikers and was one of the first national parks in the world to be declared a UNESCO World Heritage Site. To this day, it is known for its extraordinary mountain landscapes and the rare endemic animal species found there. Endangered animals in the Simien Mountains include the Ethiopian ibex, the Ethiopian wolf and the ore raven. In addition to these rare animal species, numerous birds and other mammals such as leopards, bushbuck, mantled baboons and spotted hyenas live in the national park. This spectacular trekking tour takes you up to the highest mountain in Ethiopia, the 4'533-metre-high Ras Dashen, the fourth highest peak on the African continent.
Highlights:
Exploring the capital Addis Ababa
Visit the former imperial town of Gonder with its many historic sites of interest
Spectacular 6-day trekking to Ras Dashen in the Simien Mountains National Park, the 4th highest peak in Africa
Included in the travel price
3 nights with breakfast in middle-class or high-end hotels
5 nights camping with full board during the trek
All road transfers in 4x4 Landcruiser
2 domestic flights with Ethiopian Airlines (discounted tariff if your international flight is with Ethiopian Airlines)
English speaking tour guide and hiking guide
All local guides, rangers and scouts
Cook and camp assistant for the camping nights
High quality camping equipment
All entrance fees
Short Info:
Tour code: WET-TSM-9
Hotel standard: medium or high-end hotels, camping during the trekking
Number of domestic flights: 2
Required fitness level: Need to be in good shape
Day 1: Arrival in Addis and City Tour
Upon arrival at Bole International Airport, you will be transferred to your reserved hotel. Depending on your arrival time, we have various sight-seeing options:
– Mount Entoto with the best views over the capital.
– Institute of Ethiopian Studies, where you can see a variety of artifacts from all the different regions reflecting the history and culture of the country
– National Museum which among other exhibits the replica of the 3.5 million year old bones of Lucy.
– Trinity Cathedral: this is the burial place of members of the imperial family and noted patriots;  the cathedral is the most magnificent of its kind in the country, ornamented with carvings, mosaics and other artistic works.
– Merkato. It is also possible to visit the largest market in Africa where virtually everything is on sale from live stock to computers to a huge selection of Ethiopian arts and crafts is always quite an experience.
Accommodation: Hotel, Addis Ababa
Day 2: Addis – Gonder (flight) and historic of Gondar
Morning:
In the morning we will be transferred to the airport and take a flight to Gondar, a 17th century royal city of Ethiopia, affluent in the imperial structure of a Castle Compound and the spectacularly painted Debre Birhan Selassie Church.
Afternoon:
After lunch, we will visit all sites if interest in Gonder including to the royal enclosures of Fassil Ghibe with all the castles of the Gonderian emperors, the Fasilades bath as well as the famous Debre Berhan Selassie Church, which is completely covered in murals, with the angels' faces on the wooden ceiling that have become a trademark of Ethiopian art and design.
Accommodation: Hotel, Gonder
Day 3: Drive from Gonder to Sankhaber (Simien Mountains National Park)
After breakfast we will depart from Gondar to Debark, where the headquarters of the Simien Mountains National Park are located. We will receive a scout and a local guide then drive into the park to towards Sankaber. You may either drive all the way up to Sankaber or the car can drop us off near Buyit Ras for a short hike. The hike has not only the advantage of a better acclimatization to the altitude (3'400 m) but you will also be rewarded with stunning views over the endless mountain ridges and valleys and likely to encounter your first groups of the gelada monkeys. In Sankaber we will be met by the trekking crew and supplies.
Overnight: Sankaber campsite
Day 4: Trek from Sankaber to Geech Camp
From Sankaber we will be hiking following a ridge overlooking the foothills some 800 m below. From the ridge we will descend down into the valley, where the Jinbar River plunges over the Geech Abyss. We spend some time near this amazing waterfall and then continue to Geech village where we will find our second campsite.
Overnight: Geech campsite
Day 5: Trek from Geech to Chennek
After breakfast you will start off for a 7-8 hour-hike with some of the best views you can get in the Simien Mountains. We pass through Imet Gogo at an altitude of 3,926 m and will enjoy panoramic views over an amazing landscape. From here, the canyon, ridges and valleys in the distance seem to be endless. From Imet Gogo we will continue to the next view point at Innateye valley at an altitude of 4,070 m. Here we break for lunch and then descend to Chennek (3,600m) for our third campsite.
Overnight: Chennek campsite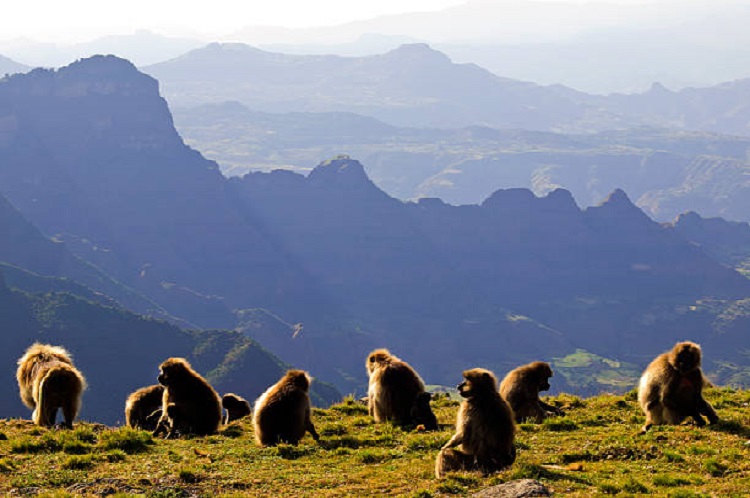 Day 6: Trek from Chennek to Ambiko
After breakfast, it will take us 2 hours to reach the summit of the Buwahit pass (4,200 m). From here we have a preview of what will expect us on the next day, the Ras Dashen, the highest peak in Ethiopia. For today, we will follow the path down into the Meseha valley to cross the Meseha river and then climb up again towards Ambiko where we will camp for the night.
Overnight: Ambiko campsite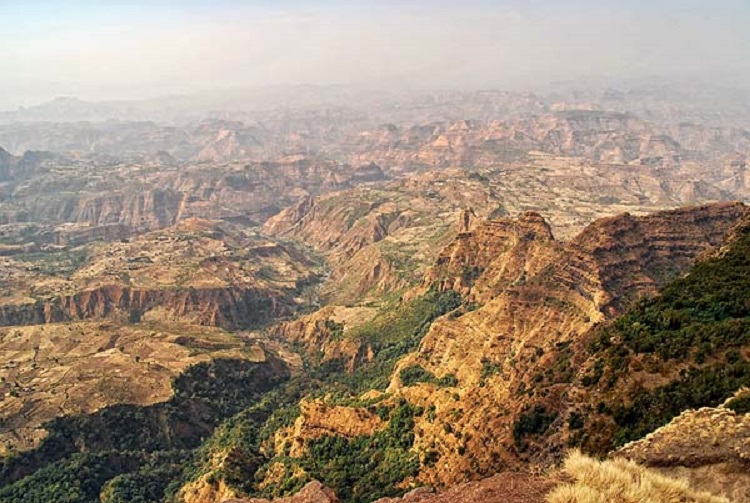 Day 7: Trek from Ambiko – Ras Dashen – Ambiko
Today we will ascend the peak of Ras Dashen. We start out before sunrise with a hike through the main valley. Closer to the mountain the way becomes steeper and steeper climbing up amidst Giant Lobelia plants. The last part of the hike very challenging for most trekkers, but even the more rewarding once you reach the highest point in Ethiopia. Here, at an altitude of 4,543 m, you will enjoy amazing views of an impressive landscape. Total hiking time will be approx. 8-9 hours until we will reach back to the campsite at Ambiko for the night.
Overnight: Ambiko campsite
Day 8: Ambiko (3'200 m) – Chiroloba – Gonder
Another 4 hours of walking await us today. First, we descend from Ambiko back into the valley and cross the Meseha River again at an altitude of 2'750 m before we ascend to the small village of Chiroloba where we stop for lunch. In Chiroloba the vehicles will be waiting for us and take us back to Gonder.

Accommodation: Hotel, Gonder
Day 9: Gondar- Addis Ababa (flight)
You may either continue your journey elsewhere from Gonder or take a flight back to Addis Ababa. You will be transferred from the airport in Addis Ababa to your hotel (a day room until 6pm will be provided if you depart in the late evening). In the evening, you are invited to a memorable farewell dinner in one of Addis Ababa's traditional restaurants with cultural songs, dances and traditional food and drinks. After dinner, you will be transferred to either Bole International Airport for your departure or, if you continue your stay in Ethiopia, back to your hotel.
Accommodation: Hotel, Addis Ababa or departure