Trekking in Lalibela (7 days)
About this tour:
This tour combines cultural and natural wonders like no other! After visiting the world-famous rock-hewn churches of Lalibela, often referred to as the eighth wonder of the world, venture out on a trek into what is undoubtedly one of Africa's most beautiful mountain regions. As Ethiopia is also home to the majestic Simien and Bale Mountain ranges, this area around Lalibela has been unfairly underestimated! Mount Abuna Yoseph at Lalibela is in fact the third highest mountain in Ethiopia (the highest outside of the Bale and Simien Mountains) with a height of 4'288m. Here you hike at over 4'000 meters in Afroalpine moorland, you stay in the highest guest house in Africa and you also have an excellent chance of seeing the Ethiopian wolf. There are many groups of Gelada monkeys and rock hyraxes, Hamadrus baboons, leopards and a variety of birds of prey such as Lemmergeyer, Vereaux's eagle or Augur buzzard also live here. You'll see fascinating rock formations, great views (weather permitting you can see as far as a hundred miles!) and spend some time exploring the Afro-Alpine landscape before descending back to the town of Lalibela.
Highlights:
Exploring the capital Addis Ababa
Visit to the world-famous rock churches of Lalibela
Spectacular 4-day hike to Abune Yoseph (4'260 m) in the Lalibela region.
Included in the travel price
2 nights with breakfast in middle-class or superior hotels
4 nights in comfortable mountain lodges with full board during the trekking
All road transfers
2 domestic flights with Ethiopian Airlines (discounted tariff if your international flight is with Ethiopian Airlines)
English speaking tour guide and hiking guide
All local guides, rangers and scouts
All entrance fees to the sights
Short Info:
Tour code: WET-TL-7
Hotel standard: medium or high-end hotels, mountain lodges during the trekking
Number of domestic flights: 2
Required fitness level: Need to be in fairly good shape
Day 1: Arrival in Addis and City Tour
Upon arrival at Bole International Airport, you will be transferred to your reserved hotel. Depending on your arrival time, we have various sight-seeing options:
– Mount Entoto with the best views over the capital.
– Institute of Ethiopian Studies, where you can see a variety of artifacts from all the different regions reflecting the history and culture of the country
– National Museum which among other exhibits the replica of the 3.5 million year old bones of Lucy.
– St. George Cathedral, where paintings by the famous Ethiopian artist Afework Tekele and other ecclesiastical wealth and cultural heritage of the past are displayed.
– Trinity Cathedral: this is the burial place of members of the imperial family and noted patriots;  the cathedral is the most magnificent of its kind in the country, ornamented with carvings, mosaics and other artistic works.
– Merkato. It is also possible to visit the largest market in Africa where virtually everything is on sale from live stock to computers to a huge selection of Ethiopian arts and crafts is always quite an experience.
Accommodation: Hotel, Addis Ababa
Day 2: Addis Ababa – Lalibela (Flight)
After breakfast, you will fly to Lalibela where you will be picked up and transferred to your hotel. We then begin our tour of the spectacular 11 rock-hewn churches of Lalibela, often referred to as the "eighth wonder of the world". Carved in one piece from the rock on which they stand, the churches of Lalibela appear to be of superhuman creation in terms of size, workmanship and concept. Some are carved out of solid volcanic rock; others are connected by long underground tunnels and labyrinths. The first group includes six churches, one behind the other in cradles: Bet Golgotha, Bet Mikeal, Bet Mariam, Bet Maskel, Bet Dangal and Bet Medhanealem. Bet Medhanealem is the largest rock-cut church in the world and is reminiscent of a Greek temple in construction. After lunch we will visit the second group of churches located south of the Jordan River. The second group also includes Bet Giyorgis, perhaps the most elegant of all the churches in Lalibela. Bet Giyorgis is somewhat isolated in the southwestern part of the village on a sloping rocky terrace and can only be reached through a tunnel. The group of four other churches south of the Jordan includes Bet Emanuel, Bet Mercurios, Bet Aba Libanos and Bet Gabriel and Rufeal. In particular, the ornate exterior of Bet Emanuel has been highly praised by international art historians.
Accommodation: Hotel, Lalibela
Day 3: Hike from Lalibela to Hudad Lodge
After breakfast, meet your guide at the hotel and hike to Hudad Eco-lodge (3'300 m). During the almost 3-hour ascent, you will pass various villages and learn more about the local crops on the different plateaus. From the Hudad Lodge you have a spectacular 360-degree view of the breath-taking landscape. Spend the rest of the afternoon spotting the endemic Gelada monkeys, or head to the nearest village to experience local life. We enjoy the evening around a cosy fire.
Accommodation: Hudad Eco Lodge
Day 4: Hike from Hudad Lodge to Degosach Eco Lodge
After breakfast we hike from the Hudad to the beautiful Degosach Eco Lodge at 3'800 m above sea level. M. (approx. 3 hours). From here you can also enjoy fantastic views of the surrounding Lasta Mountains, Abune Yousef Park and the Sekota mountain range. After lunch at the lodge, you have various options such as a walk to the nearest village to experience local life, a short or long hike to Abune Yousef Park or just relaxing around the lodge. Enjoy a beautiful sunset from the lodge, and a cosy campfire after dinner.
Accommodation: Degosach Eco Lodge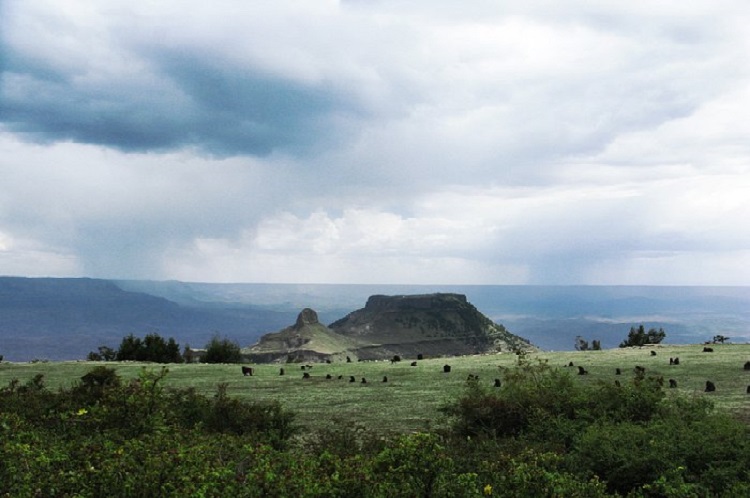 Day 5: Trek from Degosach Eco Lodge to Abuna Yousef Park Lodge
After breakfast we trek to Abune Yousef Conservation Area where you will enjoy the spectacular views of Abune Yousef Mountain and most likely encounter the endemic Gelada Monkeys, Red Foxes and many birds. With our picnic lunch we will spend most of the day in Abune Yousef Park and if you wish we will climb the highest point, Mount Gedel (4'288m) and hike back to the lodge from the summit.
Accommodation: Abuna Yousef Park Lodge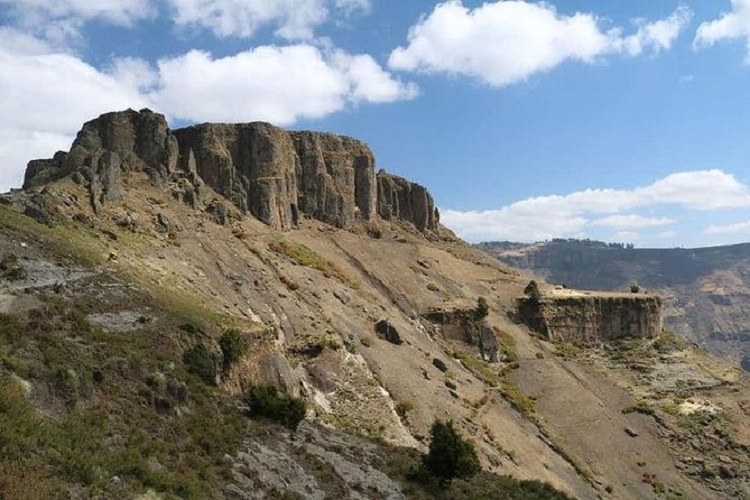 Day 6: Abuna Yousef Park Lodge back to Degosach Eco Lodge
Today we hike back down to the Degoasch Eco Lodge on a different route than we came. The walk is fairly easy, passing through villages and across different plateaus with remarkable views until we finally reach the lodge.
Accommodation: Degosach Eco Lodge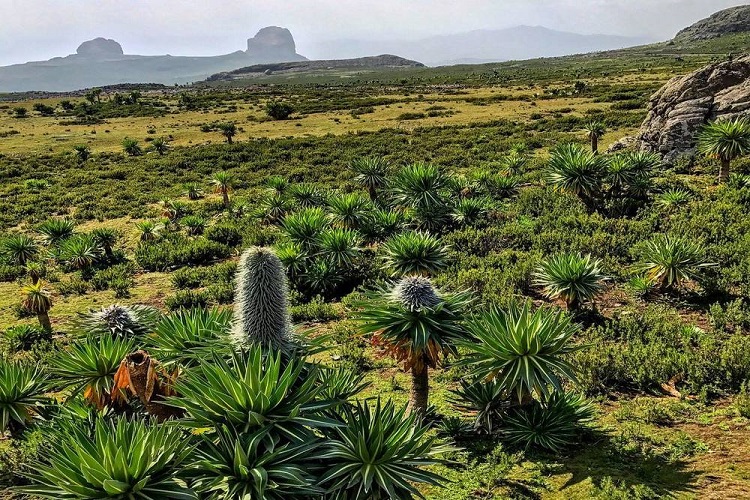 Day 7: Drive or trek from Degosach Eco Lodge back to Lalibela / Flight to Addis Ababa
After breakfast, you can drive from Degosach Lodge to Lalibela Airport. Driving time is around 1.5 hours while trekking via Keneknit Micheal Anchiant Church takes around 4 hours. If you are not planning to fly back to Addis Ababa today, you can spend the morning at Degosach Eco Lodge and then return to Lalibela.
Accommodation: Hotel in Lalibela or Addis Ababa or departure