Northern Ethiopia (11 days)
About this tour:
This tour is ideal for travellers who want to explore the highlights of Northern Ethiopia partly "off the beaten track".
Highlights:
Spectacular landscape around Ankober, where emperor Menelik once had his palace, with breath-taking views over the Rift Valley.
Visits to the markets of Senbete (Sundays only) and Bati (Mondays only), the biggest and most colourful markets in Northern Ethiopia.
Visit the majestic Blue Nile Falls in Bahir Dar
Boat trip on lake Tana with unique island monasteries and nature (animal viewing- and excellent birding)
Former imperial town of Gondar (UNESCO world heritage site)
Breath-taking landscapes of the Simien Mountains with numerous endemic animals (UNESCO world natural site)
Lalibela, the unofficial 8th wonder of the world (UNESCO world heritage site)
Included in the travel price
10 nights with breakfast in hotels and lodges as agreed at the time of booking
Road transfer in Toyota minibus or 4x4 Landcruiser with experienced tour driver and fuel
Professional tour guide (English, German, French, Italian and Spanish-speaking available)
All local guides, rangers and scouts as required
1 domestic flight with Ethiopian Airlines (discounted tariff if your international flight is with Ethiopian Airlines)
All entrance fees
Boat trip on lake Tana
Traditional dinner on the last evening before departure
1 liter of mineral water per day
Short Info:
Tour code: WET-NE-11
Hotel standard: Can be chosen basic / middle-class to high-end
Number of domestic flights: 1
Required fitness level: no requirements
Day 1: Arrival and Addis Ababa City Tour
Upon arrival at Bole International Airport, you will be met by a Welcome Ethiopia Tours representative and be taken to your reserved hotel. Depending on your arrival time, we have various sightseeing options:
Mount Entoto with the best views over the capital.
Institute of Ethiopian Studies, where you can see a variety of artifacts from all the different regions reflecting the history and culture of the country
National Museum which among other exhibits the 3.5-million-year-old bones of Lucy.
Trinity Cathedral: this is the burial place of members of the imperial family and noted patriots; the cathedral is the most magnificent of its kind in the country, ornamented with carvings, mosaics and other artistic works.
The Mercato, the largest open-air market in Africa,

Accommodation: Hotel, Addis Ababa
Day 2: Addis Ababa – Ankober (173 km)
Today we start our journey northwards via Debre Birhan to Ankober. In Debre Birhan we leave the paved road and enter Ethiopia's lush green Shoa mountains, one of the country's most fertile regions. The landscape is marvellous and shortly before arriving at Ankober, we enjoy Ankober breath-taking views over the Great Rift Valley below.
We reach the Ankober, which has been built exactly in the place where emperor Menelik once had his palace. From here we enjoy panoramic views over, over the surrounding lush, green hills. The rest of the day is meant to relax and enjoy this peaceful location.

Accommodation: Ankober Palace Lodge, Ankober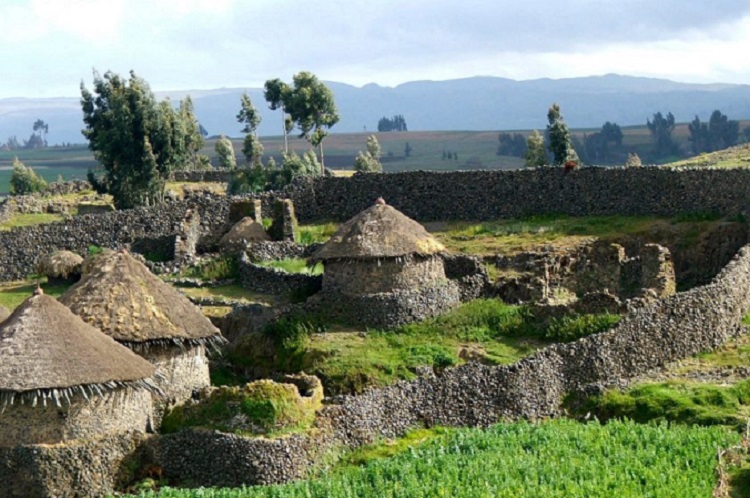 Day 3: Ankober – Senbete Market – Dessie (400 km)
After breakfast, we start our drive to Dessie (approx. 8h). We will make a stop at the Senbete market (Sundays only). The market is frequented by different ethnic groups such as Oromo, Afar and Amhara and is one of the most authentic and colourful markets in Ethiopia. It also has a dedicated area for the trade of livestock, particularly camels, cattle and donkeys. In the late afternoon, we will arrive in Dessie, where we will spend the night.
Accommodation: Hotel Dessie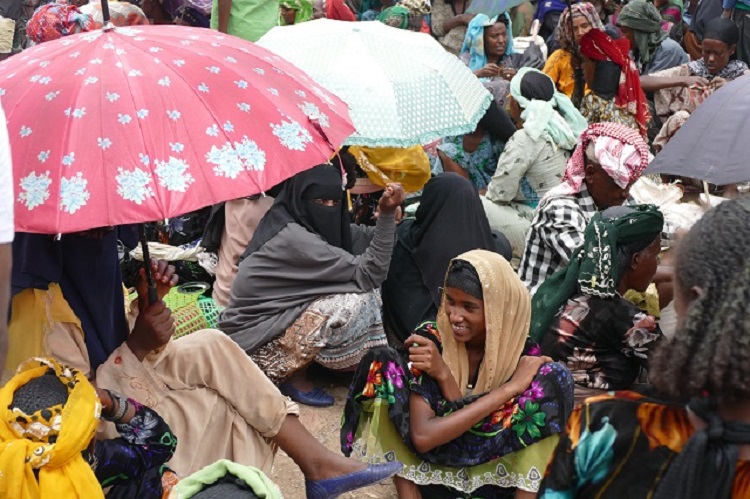 Day 4: Dessie – Bati Market – Woldyia (250 km)
Morning:
After breakfast, we drive to Bati and visit the second largest market in Ethiopia after the Mercato in Addis Ababa (Mondays only). Like Senbete market Bati is frequented by several ethnic groups, turning it into an extremely colourful place. The market is huge and chaotic and covers a hillside. Bati is with no doubt among the most interesting markets in whole Africa.
Afternoon:
We continue to northward to Woldyia. On the way, we have an option to stop at Lake Hayk. The lake is not only well known for its rich bird life, but also for its monastery on the Western shore (accessible for men only).
Accommodation: Lal Hotel, Woldyia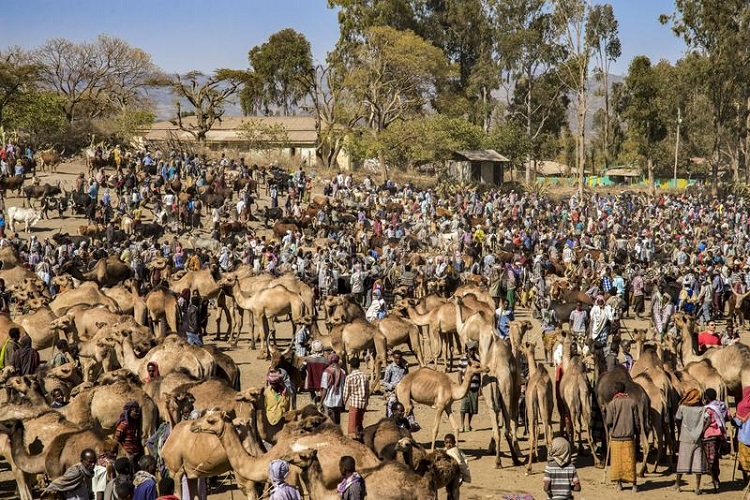 Day 5: Woldyia – Lalibela (180 km)
Morning:
We have another 3 hrs. drive until reaching Lalibela.
Afternoon:
We will visit the 11-renowned rock hewn churches of Lalibela, often called the 8th Wonder of the World. The Lalibela rock hewn churches are physically carved from the rock on which they stand. These towering edifices seem to be a superhuman creation in scale, workmanship and concept. Some are sculptured out of a solid volcanic rock, others are connected by long underground tunnel and mazes. Some are quarried enlargements of caves. The first group of six churches lies in rock cradles, one behind the other: Bet Golgotha, Bet Mikeal, Bet Mariam, Bet Maskel, Bet Dangal and Bet Medhanealem. Bet Medhanealem, the largest rock hewn church in the world is built like a Greek temple. The second group comprises Bet Giyorgis, possibly the most elegant of all the Lalibela churches. Bet Giyorgis lies somewhat isolated to the southwestern part of the village on a slopping rock terrace and can only be reached through a tunnel. The group of four churches, south of the river, comprises Bet Emanuel, Bet Mercurios, Bet Aba Libanos and Bet Gabriel and Rufeal. Bet Emanuel's elaborated exterior has been much praised by international art historians.
Accommodation: Hotel, Lalibela
Day 6: Fascinating Surroundings of Lalibela
Morning:
If you wish we can spend some more time exploring the rock-hewn churches. Alternatively, we may take an excursion to the Asheton Maryam Monastery, spectacularly located at 3'200 m above sea level) with panoramic views over the beautiful surrounding landscapes.
Afternoon:
After lunch we will visit the fascinating cave church of Yirmahne Kristos dating from the 11th century. Driving through the local villages and scenic landscape will take us 2 hours each way.
Accommodation: Hotel, Lalibela
Day 7: Lalibela – Awra Amba – Gondar (350 km)
Today we continue our drive through ever changing landscapes to Gonder (approx. 8 hours). On the way we may opt for a stop in Awra Amba and visit the completely self-sufficient community, where men and women are socially equal and where there are no religions. Quite an interesting and unique approach in Ethiopia. Judge it for yourself! We reach Gondar in the late afternoon.
Accommodation:  Hotel, Gondar
Day 8: Gonder – Simien Mountains (120 km)
Morning: Historic Tour of Gonder
After breakfast, we visit to the royal enclosures of Fassil Ghibe and all the castles of the Gonderian emperors as well as the famousDebre Berhan Selassie Church, which is completely covered in murals, with the angels' faces on the wooden ceiling that have become a trademark of Ethiopian art and design.
Afternoon: Gonder – Simien Mountains (120 km)
We continue our trip to Debark, where the headquarters of the Simien Mountains National Park are located.

Accommodation: Hotel, Debark or Lodge, Simien Mountains National Park
Day 9: Full Day in the Simien Mountains National Park
Today we explore the Simien Mountains National Park. Due to its unique landscape and its endemic fauna the park has been declared a UNESCO world nature heritage site in 1996. In the park, you may experience the very close interaction with the friendly Gelada Baboons. We drive up to Sankaber (3'220m) and admire the impressive scenery with its deep gorges and valleys and the highest waterfall in Ethiopia. Here a gentle walk would take us about 2 hours. We hope to encounter further endemic animals, such as the Walia Ibex and the Simien fox. In the late afternoon, we will return to Debark, where we will spend the night.
Accommodation: Hotel, Debark, or Lodge, Simien Mountains National Park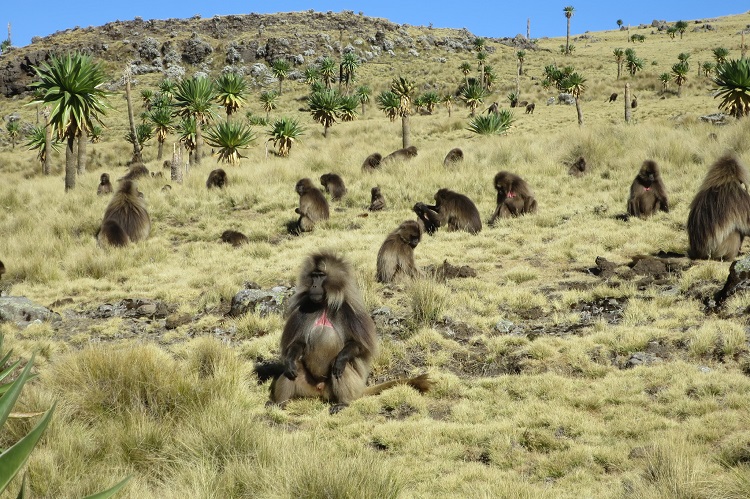 Day 10: Simien Mountains – Bahir Dar (300 km)
Morning:
After breakfast we drive to Bahir Dar (approx. 5 hrs.).
Afternoon: Boat trip on Lake Tana
After lunch, we will go on a boat trip on lake Tana to explore the nearby monastery of Ura Kidane Mihret on the Zege peninsula, known for its 14th century, round, grass-roofed churches and their magnificent wall murals, the Azoa Mariam and Ura Kidane Mihret churches. Its architectural styles with mud plastered round wall and a conical thatched roof are typical examples of ancient Ethiopian orthodox churches. The monastery is found hidden in the mangroves forest of the Zege peninsula. Ura is especially well known for its fine frescoes, manuscripts, ecclesial objects, such as the crown of various emperors dating from the 14th century, gold and silver processional crosses, silver drums and royal vestments. On our walk through the densely-forested area we hope to encounter monkeys and abundant bird life. On the lake, you will also have a chance to see hippos and more wildlife.
Accommodation: Hotel, Bahir Dar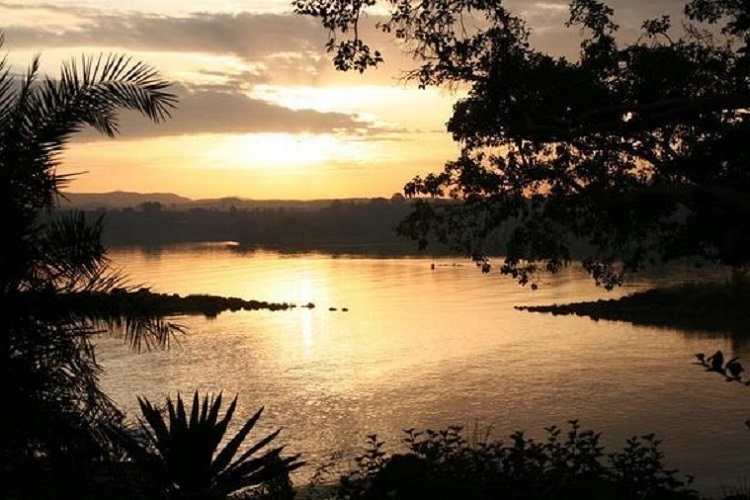 Day 11: Bahir Dar – Blue Nile Falls – Addis Ababa (flight)
Morning: Visit to the Blue Nile Falls
After breakfast we will visit to the magnificent Blue Nile Falls. The water plunges here for 45m It is about 35km drive from town. In the later afternoon, we drive back to Bahir Dar and discover the market, where you may purchase handicrafts like jewellery, woven and embroidered garments, ox-horn cups or grass baskets (Agelgil), for which Bahir Dar is well known, or simply watch the indigenous culture of the local community.
Afternoon:
We fly back Addis Ababa. You will be picked up at the airport in Addis Ababa and taken to your hotel. According to your interests, there are various sightseeing and shopping opportunities.
Evening:
You will be invited to a memorable farewell dinner in one of Addis Ababa's famous traditional restaurants with cultural songs, dances and traditional food and drinks. You will then be transferred to either Bole International Airport for your international departure or, if you continue your stay in Ethiopia overnight, to your reserved hotel.
Departure or Individual Extension