Southern Ethiopia (6 days)
About this Tour:
This tour is ideal for travellers who want to explore within short time Ethiopia's South with its fantastic landscapes and unique tribes of the Omo Valley. This tour can be perfectly combined with any other of our Ethiopia tours or with a beach holiday or safari in another East African country.
Highlights:
Boat Safari on lake Chamo with Africa's biggest crocodiles, hippos and numerous bird species
Visit of the Omo Valley (UNESCO world heritage site) with its several unique tribes
Visit of the colourful markets of Key Afer and Dimeka in the Omo Valley
Authentic encounters with locals during visits of several communities such as the Dorze village
Visit of the Konso region (UNESCO world heritage site)
Included in the travel price
5 nights with breakfast in hotels and lodges of your choice
Road Transfer in Toyota minibus or 4x4 Landcruiser
Professional tour guide (English, German, French, Italian or Spanish-speaking available)
All local guides, rangers and scouts
2 domestic flights with Ethiopian Airlines (discounted tariff if your international flight is with Ethiopian Airlines)
All entrance fees
Traditional dinner on the last evening before departure
1 liter of mineral water per day
Short Info:
 Tour code: WET-SE-6
 Hotel standard: can be chosen from medium to high-end
 Number of domestic flights: 2
 Required fitness level: no requirements
Day 1: Arrival in Addis Ababa and City Tour
Day 1: Arrival and Addis Ababa City Tour
Upon arrival at Bole International Airport, you will be transferred to your reserved hotel. Depending on your arrival time, we have various sightseeing options:
Mount Entoto with the best views over the capital.
Institute of Ethiopian Studies, where you can see a variety of artifacts from all the different regions reflecting the history and culture of the country
National Museum which among other exhibits the 3.5-million-year-old bones of Lucy.
Trinity Cathedral: this is the burial place of members of the imperial family and noted patriots; the cathedral is the most magnificent of its kind in the country, ornamented with carvings, mosaics and other artistic works.
The Mercato, the largest open-air market in Africa
Accommodation: Hotel, Addis Ababa
Day 2: Addis Ababa – Arba Minch (flight)
This morning we transfer to the airport for our flight to Arba Minch in southern Ethiopia. Known to most visitors as the Omo Valley for the large river that waters the region, this area is actually named the Southern Nations, Nationalities, and Peoples' Region, and it's one of Ethiopia's nine regional states. We arrive at our hotel in Arba Minch in time for lunch, then begin our explorations of this diverse region with a visit to the Dorze people. This small ethnic group numbered somewhere near 30'000 people in the last census (which was in 1994), and they primarily make a living by weaving. While visiting with these folks, we are treated to fantastic scenery, including the Wolayta farmlands of lush green hills and valleys, and overlooks of Lake Abaya and Lake Chamo, which sit below the Dorze's mountainside village. This evening, we return to our resort, which was established in 2018 by world-famous Ethiopian Haile Gebrselassie, for dinner.
Accommodation: Haile Resort, Arba Minch
Day 3: Arba Minch – Konso – Turmi
We begin our day with a boat cruise on Lake Chamo, where we are on the lookout for a variety of wildlife. We are sure to see an assortment of birdlife, including pelicans, and will keep our eyes peeled for both hippos and the imposing Nile crocodile, the world's second-largest croc species. After our cruise, we continue our drive to the UNESCO World Heritage Site of Konso. Named for the nearby Konso tribe, this village contains some 5,000 people who engage in beekeeping, weaving, agriculture, and market activities. We visit the village compound and the local museum here, and take note of Konso's rich agrarian culture that dates back centuries. Evidence of this comes in the ingenious terraces and walls that encircle their fields and villages for protection against livestock damage and flooding. After our visit, we continue to Turmi, where we check into our lodge for the next two nights. Dinner is at the lodge tonight.
Accommodation: Paradise Lodge, Turmi
Day 4: Turmi
We awaken in Turmi, our home base for exploring the lands and peoples of the Omo Valley. The Omo River is the largest in Ethiopia outside the Nile basin, and its entire valley was declared a UNESCO World Heritage Site in 1980, as it contains several significant archaeological sites containing remains of the Australopithecus and Homo genera, as well as tools dating back some 2.4 million years. During our first excursion in this remote region, we visit the Dassanech people, who live in the most southerly part of the Omo Valley. Their name means "People of the Delta," as they live where the Omo River delta enters Lake Turkana. Despite the river and lake, this area of Ethiopia is exceptionally dry, and life revolves around the careful conservation and usage of water. After our morning visit here, we return to Turmi for lunch at our lodge, then head out this afternoon to visit the fascinating Hamer tribe, one of Ethiopia's best-known peoples. The semi-nomadic Hamers have gained renown for their ochre hair color, as well as their bull-jumping ceremony, a rite of passage for young Hamer boys passing through adolescence. We have time to meet and interact with the Hamer, enjoying a once-in-a-lifetime cultural exchange with a people whose ways have changed little since their ancestors first set foot in Ethiopia. We return to our lodge for dinner together this evening.
Accommodation: Paradise Lodge, Turmi
Day 5: Turmi – Jinka
We visit a local school this morning to continue our cultural learning. After lunch together, we depart for the town of Jinka, arriving late afternoon. We check in at our lodge set along the Neri River, and have time to relax before dinner together tonight.
Accommodation: Eco-Omo Lodge, Jinka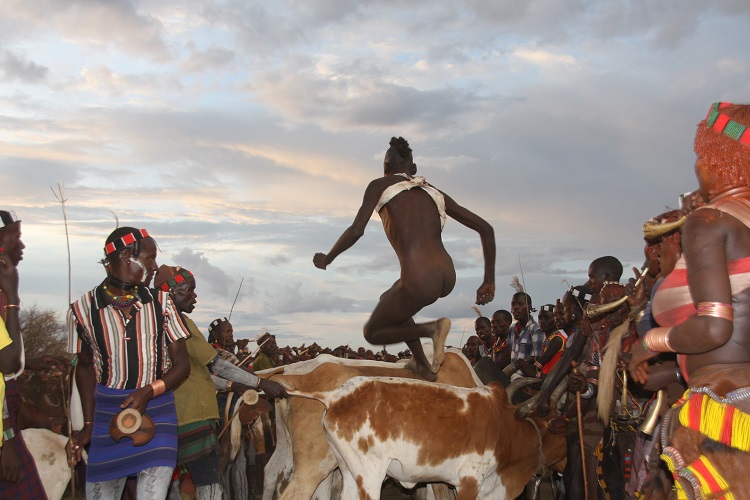 Day 6: Jinka – Mago National Park (Mursi tribe) – Addis Ababa (flight)
We visit nearby Mago National Park this morning, another diverse park with a variety of ecosystems, the Mago is home to the Mursi tribe, one of the most unique tribes in Africa. We visit the Mursi in their villages, where we see the local women's beauty ritual of expanding their bottom lips via round, decorated plates. After our visit, we head to the airport for our flight back to Addis. You will be transferred from Addis Ababa domestic airport to your hotel, where you will have a day room at your disposal until 6 pm. In the evening you are invited to a memorable farewell dinner in one of Addis Ababa's famous traditional restaurants with cultural songs, dances and traditional food and drinks. After dinner you will be transferred to the airport for your international departure or, if you are still staying in Ethiopia overnight, back to your reserved hotel.
Departure or Individual extension