Horn of Africa Tour (17 days)
About this tour:
The Horn of Africa is the easternmost extent of the African continent and is usually defined as the region containing the countries of Djibouti, Eritrea, Ethiopia and Somalia (and Somaliland), whose cultures are linked by their long history. In total, the Horn of Africa is estimated to cover over 2 million km2, most of which have a semi-arid to arid climate. Despite the difficult living conditions in many parts of the region, the latest estimates put the population at around 90 million people. This unique journey departs from Addis Ababa to Somaliland and Djibouti, two little-known destinations that have the potential to become major adventure destinations soon. This 17-day journey of discovery is all about getting off the beaten track and discovering unusual destinations such as Harar, Hargeisa, Berbera, Lake Assal and Lake Abbe. You will be surprised by the variety of landscapes, the many different attractions, and the friendliness of the people you will meet in this fascinating region.
Highlights:
Full day exploring the Ethiopian capital Addis Ababa
Game drive in Awash National Park in Ethiopia
Visit to the UNESCO World Heritage Site of Harar with many sights and the legendary hyena feeding
Full day exploring Hargeisa, the capital of Somaliland
Fascinating cave paintings of Las Geel, one of Africa's best kept secrets
Visit to the colorful seaside town of Berbera
Exploring Djibouti City
Excursion to Maskali & Moucha Island or Swim with Whale Sharks (seasonal)
Lake Assal, which is 155m below sea level and marks the lowest point in Africa.
The bizarre scenery of Abbe Lake, where you will see an eerie plain with limestone chimneys belching steam making for sensational photos.
Included in the travel price
16 nights with breakfast in middle-class to good hotels and lodges
All ground transfers according to program
Professional tour guide (English, German, French-speaking available)
All regional flights by program
All entrances and fees for national parks and attractions
All local guides, rangers and scouts
Boat excursion in Djibouti
1 liter of mineral water per day
Short Info:
Tour code: WET-HOA-17
Hotel Standard:  basic / middle-class hotels and lodges
Number of domestic flights: 2
Required fitness level: fairly fit and heat tolarability
Day 1: Arrive in Addis Ababa, Ethiopia, and collect Somaliland visa
You will be met by our representative at the airport and taken to your hotel for an early check-in. After you have rest at the hotel, we drive to Somaliland Embassy in Addis Ababa and collect your Somaliland entry visa. Please note that you must already apply for your Djibouti visa at the Djibouti embassy in your home country. Sometime today we should be able to taste Ethiopia's "Black Gold" because it's impossible to separate Ethiopia from coffee, and this is the country with arguably the best Arabica coffee. According to legend, it was discovered by an Ethiopian shepherd boy and his goats sometime in the sixth century.
Accommodation: Hotel, Addis Ababa
Day 2: Full day city tour of Addis Ababa
Although not well known outside the country, the Ethiopian National Museum is a truly hidden gem! The most famous exhibit is the replica of Lucy, one of the oldest hominids ever discovered, but the museum offers much more. As the Ethiopian civilization is one of the oldest in the world, the exhibits span thousands of years, including some from the earliest days. During our visit we will see a wide variety of artifacts, from sculptures to clothing to works of art. There are many exhibitions about the different ethnic groups with information about their way of life. A large number of ethnic garments, instruments, tools and other artifacts accompany each ethnic exhibition, making it one of the most interesting museums in Ethiopia. We also visit the Holy Trinity Cathedral, one of the most important places of worship in Ethiopia and the final resting place of Emperor Haile Selassie.
Accommodation: Hotel, Addis Ababa
Day 3: Addis Ababa – Awash National Park
After breakfast we start our drive to Awash National Park (about 4 hours). For lunch we arrive at the Park Lodge, spectacularly situated next to the Awash Falls. Here we have the opportunity to observe a wide variety of birds and mammals in the savannah as well as crocodiles living on the river. Enjoy an impressive sunset over the Awash Gorge.
Accommodation: Kuriftu Lodge, Awash National Park
Day 4: Awash National Park – Harar
After the morning game drive in Awash Park, we have breakfast and then drive to Harar (approx. 8 hrs.), stopping en route at Avadai, the largest khat market in Ethiopia. In the evening you will see the "Hyena Man" feeding the hyenas that gather outside the city at night. With a little courage you may of course also feed the hyenas yourself – an incredible experience!
Accommodation: Hotel, Harar
Day 5: Full day in Harar
Today we discover the 16th-century walled city of Harar, the fourth most important city in the Islamic world and a UNESCO World Heritage Site. It seems as if time has stood still here for centuries. We visit the house of Arthur Rimbaud, the famous French poet who lived in Harar, the National and Harari Museums, the house of Ras Mekonnen (Haile Selassie's father), traditional Harari houses, the market and many other places of interest.
Accommodation: Hotel, Harar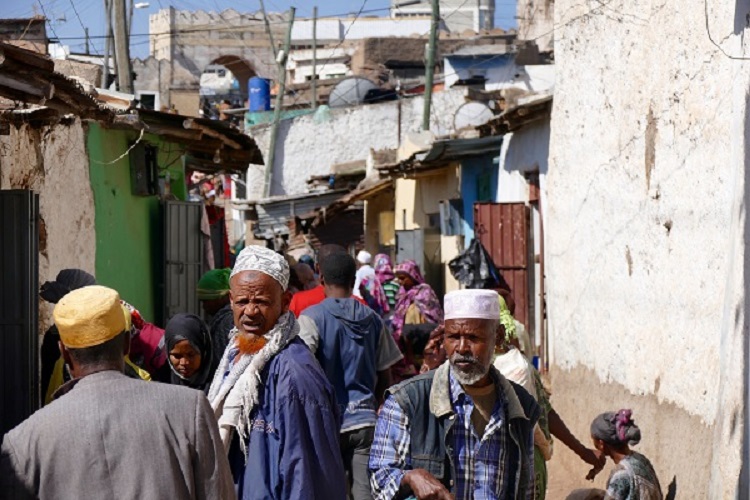 Day 6: Harar – Hargeisa, Somaliland
Today we drive from Harar to Hargeisa. The drive through the country, which is still largely unexplored by tourists, will take around 8 hours, depending on how fast we are with the border formalities. Please note that we need to change vehicles at the border and you need to get your visa before arriving at the border. In Hargeisa we will check in at our hotel and have dinner.
Accommodation: Hotel, Hargeisa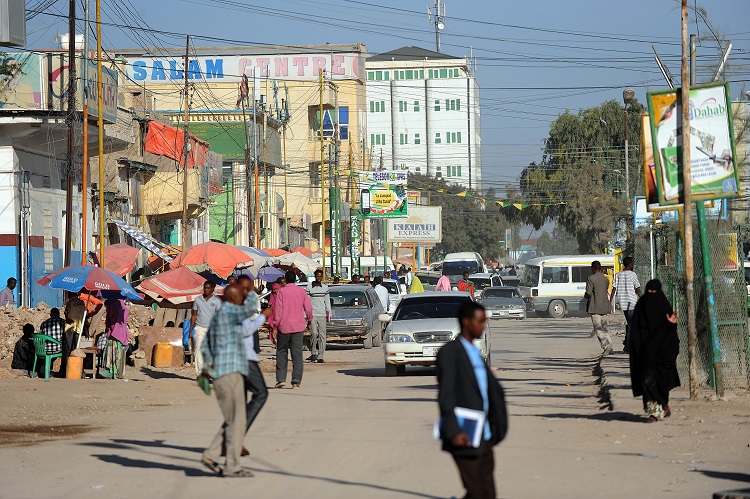 Day 7: Full day exploring Hargeisa
In Hargeisa, the capital of Somaliland, we have a full day to explore this friendly city and get a feel for a place undergoing rapid change after a long civil war. We spend the morning exploring some of the sights, including the unusual war memorial featuring a downed fighter plane, the markets – including the gold, money and khat markets – and a traditional Somali house.
Accommodation: Hotel, Hargeisa
Day 8: Hargeisa – Las Geel – Berbera
After breakfast we drive to the Las Geel Caves where 5'000-year-old rock carvings were found – one of the best-preserved examples in all of Africa. One of Africa's best kept secrets and a real highlight of the trip! After visiting the site, we continue to Berbera on the coast, where we explore the interesting architecture from the Ottoman and British periods.
Accommodation: Hotel, Berbera
Day 9: Full day in Berbera
The seaside town of Berbera is a tranquil and colorful seaside town where we will have a day to enjoy the area's amazing beaches and taste fresh seafood.
Accommodation: Hotel, Berbera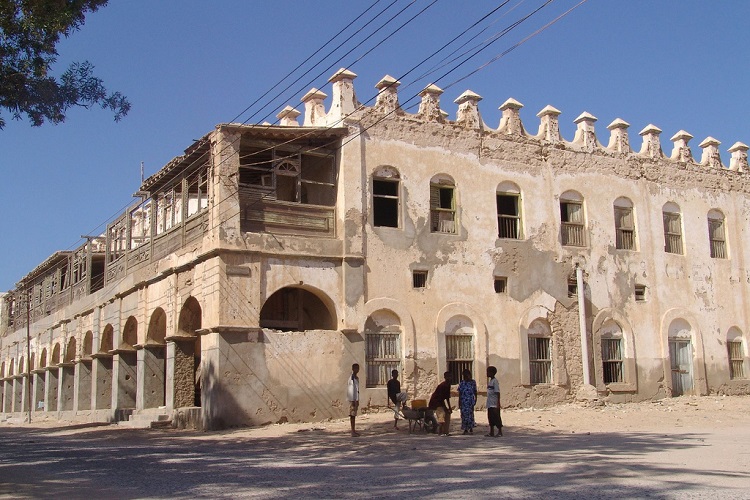 Day 10: Berbera – Sheikh – Hargeisa
We spend the morning exploring Berbera. After lunch we leave the city and drive through the mountains to Sheikh, through fantastic scenery with great views of the arid plains below. In Sheikh we visit the ruins of Ferdusa, a 16th century city. Then it's back to Hargeisa.
Accommodation: Hotel, Hargeisa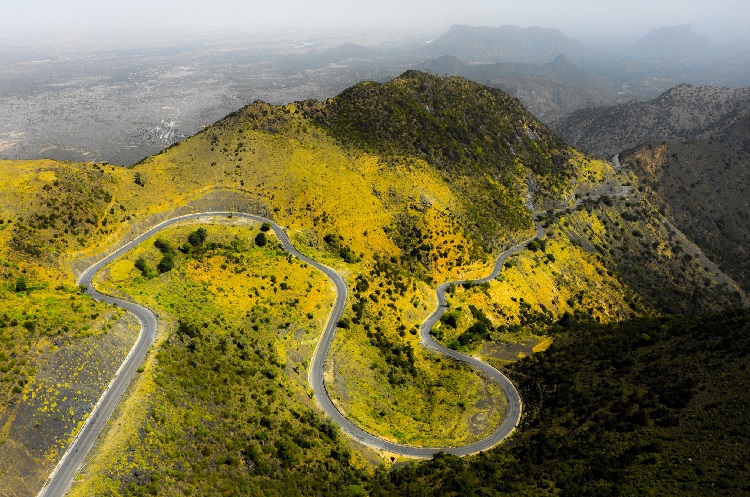 Day 11: Hargeisa – Djibouti
Today we either cross the land border from Somaliland into Djibouti via Loyada, which is a long drive of around 10 hours, or we fly (most likely with Ethiopian Airlines via Addis Ababa. Jubba Airways sometimes offers direct flights, but unfortunately these are quite unreliable).
Accommodation: Hotel, Djibouti City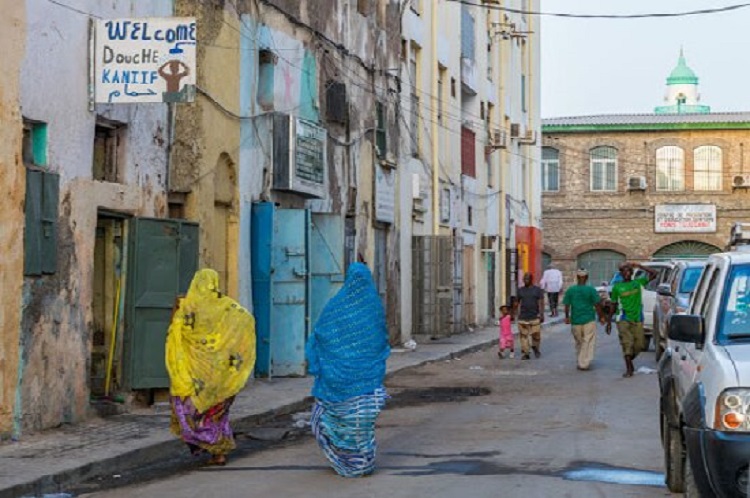 Day 12: Excursion to Maskali & Moucha Island or swim with whale sharks at Arta Plage
Today, treat yourself to a full-day trip to a small, sleepy beach with rustic huts for shade and relax away from the hustle and bustle of Djibouti City. In addition, these islands offer excellent reefs for spectacular snorkeling. From November to January, Djibouti is one of the easiest places on earth to see whale sharks! These gentle giants feed on the high concentrations of plankton around Ras Eiro and Arta Plage and you can swim and snorkel with them! Simply put, whale sharks are whale-sized sharks and the largest fish on earth! In Djibouti you can see whale sharks with a length of up to 8m and a mouth of 1m… but fear not, despite their size, whale sharks feed on the smallest things in the sea and their friendly and playful nature makes swimming and swith them is an unforgettable experience.
Accommodation: Hotel, Djibouti City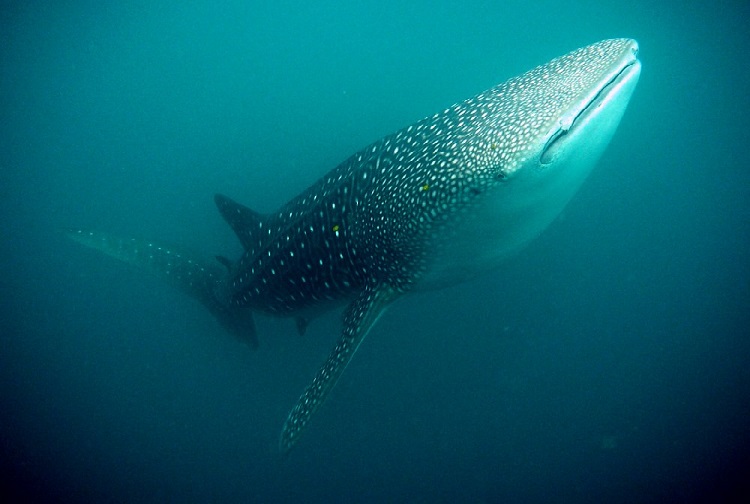 Day 13: Djibouti City – Lake Assal – Lake Abbe
We continue to Lake Assal, 155m below sea level, a spectacular crater lake surrounded by dark dormant volcanoes. We will enjoy a fantastic swim in the "Dead Sea" of Africa, which is also the lowest point on the African continent. The aquamarine water is surrounded by a white salt field in stark contrast to the surrounding black lava fields – an incredible sight! Our final destination for today is Abbe Lake, where you will see an eerie plain of limestone chimneys belching steam and making for sensational photos.
Accommodation: Lake Abbe Camp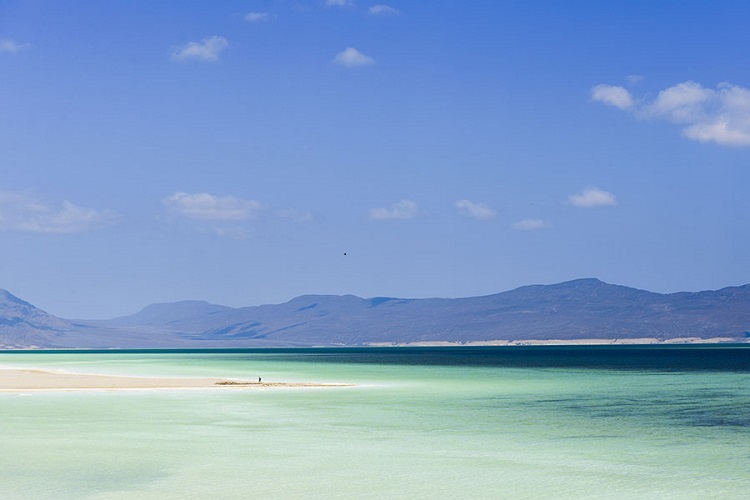 Day 14: Abbe Lake – Tadjoura
Early in the morning we take a short hike through the limestone chimneys around Lake Abbe. With a bit of luck, we will also see large flocks of flamingos. Then it's back to Lake Assal (110 km) and the small coastal town of Tadjoura on the Gulf of Djibouti.
Accommodation: Hotel Sables Blancs, Tadjoura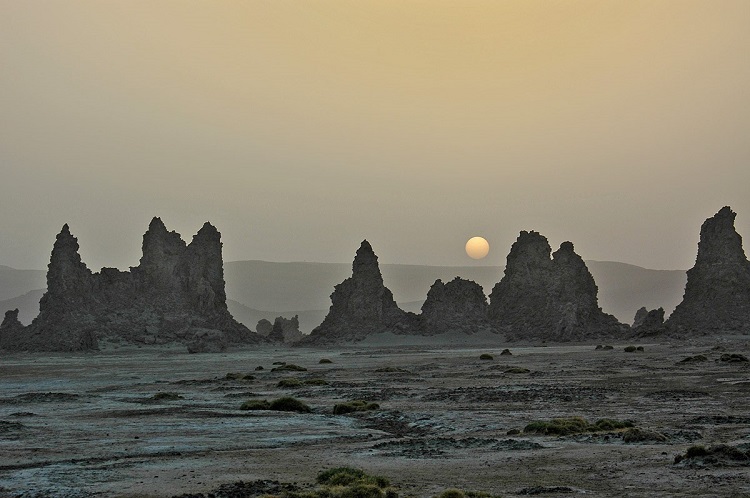 Day 15: Beach Day at White Beach, Tadjoura
Today we relax the whole day at the pristine "White Beach" at Tadjoura. Well-deserved after the hot days in the desert. We spend the night in a simple, pretty guesthouse right on the beach.
Accommodation: Hotel Sables Blancs, Tadjoura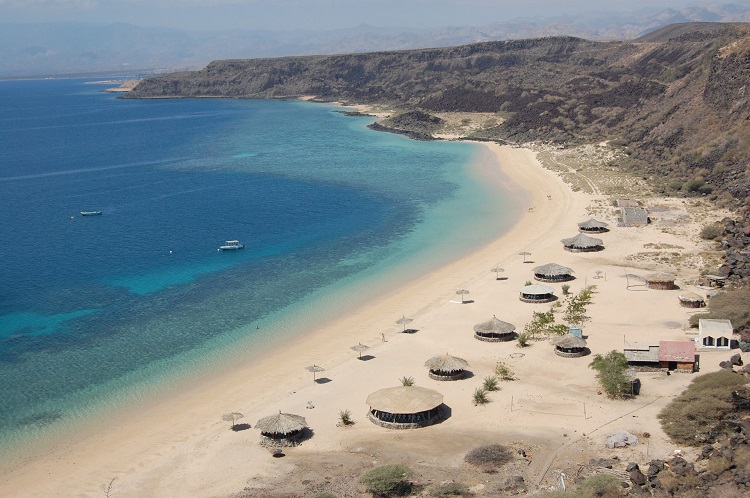 Day 16: Tadjoura – Ardokouba Volcano – Djibouti City
We drive along the idyllic Gulf of Djibouti back to Djibouti City. On the way we will visit the Ardoukoba volcano, which is located on the coast near Lake Assal. The 298-meter high Ardokouba is a volcano formed from a volcanic fissure and consists of a pile of basaltic scoria forming three cones. You can climb up to the crater of the volcano and walk on the dark lava flows that still seem warm despite being thousands of years old.
Accommodation: Hotel, Djibouti City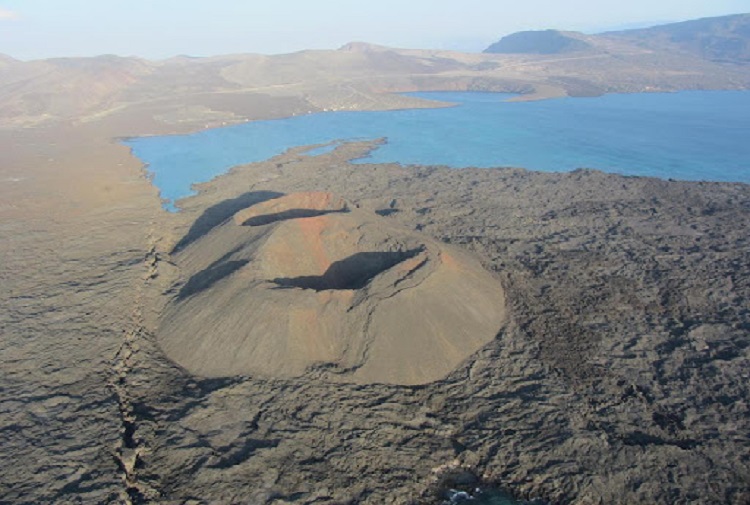 Day 17: Flight to Addis Ababa / Departure
Today we drive to the airport for our flight to Addis Ababa where we will connect to our international flight to Europe.
End of the tour