The hotel supply in Addis Ababa is growing quickly with an increasing number of properties offering international standards including several apartment hotels and branded hotels: Sheraton, Hilton, Radisson Blue, Golden Tulip, Marriott and Ramada. Smaller hotels and cozy guest-houses are also available. In the main tourist destinations, there is a range of accommodation available including urban hotels as well as smaller properties with local charm and lodges in national parks and other unique locations. Scarcer still are hotels and lodges with sufficient character or individuality to slot into the "boutique" category or be recommended on much more than a functional level. Some larger towns might have literally hundreds of inexpensive guesthouses to choose from. Standards of cleanliness and comfort levels, however, are generally very low, and accommodation aimed at or suited to a more demanding clientele tends to be in much shorter supply, at least outside of Addis Ababa and a few major tourist centres. However, here is at least one hotel, resort or lodge of comparable four to five star quality in Bishoftu, Bahir Dar, Lake Langano and Hawassa. Elsewhere, most important tourist sites, for instance Gondar, Lalibela, Gheralta, Ziway,  Bale and Simien Mountains National Parks, have at least one hotel or lodge approaching international standards. Otherwise, the vast majority of hotels in Ethiopia are bland multi-storey "city hotels" offering functional but forgettable en-suite accommodation, though they will at least still offer hot water, satellite TV, wi-fi and a restaurant serving a mixture of local and international dishes. In some cases, such hotels will be very clean, quite modern in feel, and well maintained and managed. Most, however, are quite run-down and it would be rare indeed to have a room where everything worked 100 percent. Two popular tourist destinations that (rather inexplicably) suffer from a long-standing lack of quality tourist accommodation are Aksum and Harar.
Kuritftu Resort, Bahir Dar
Best known of the Kuriftu Resorts, the Kuriftu Resort Bahir Dar is an excellent choice of accommodation in Bahir Dar. The 28 rooms are spacious and luxurious with large four-poster beds and en-suite bathrooms. There is a spacious and modern restaurant and bar with wine cellar. Meals can be taken on the outside terrace overlooking the lake. Facilities include a sparkling pool and spa, where excellent massages are on offer. Book in advance to avoid disappointment. From the resort you can take tours of the island monasteries and visit the Blue Nile Waterfall.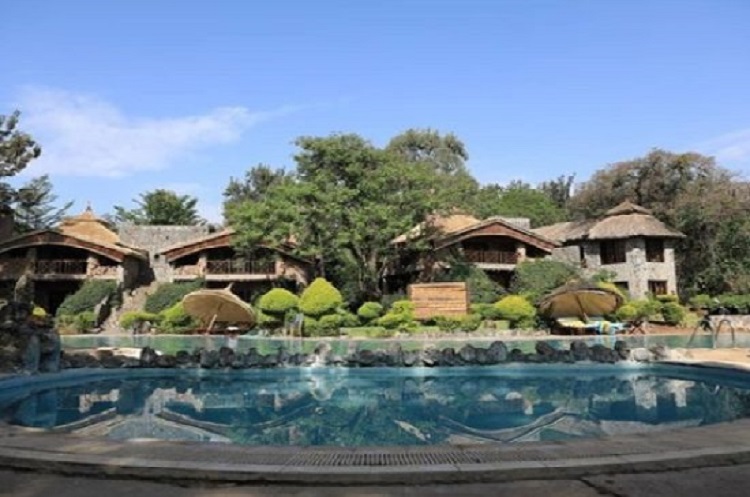 Mezenea Lodge, Lalibela
Mezena Lodge is a new lodge that opened in September 2017 and has quickly established itself as one of better hotels in Lalibela. Mezena Lodge has 30 spacious cottages spread out across a hillside with some superb views. Its out of town location ensures that you can enjoy some peace and quiet away from busy Lalibela. Mezena lodge is a 25 minute drive to Lalibela airport. It is situated on the outskirts of the town, with Lalibela centre easily reachable on foot. The lodge has two restaurants, one serving traditional Ethiopian food and a separate 'fine-dining' restaurant.Around the central building you'll find the restaurant, bar, and spa. The spa includes a sauna, steam room, massage and gym, and there is a swimming pool on the terrace. The lodge has all the basic amenities you'd expect in a mid-range lodge, and is the perfect choice if you're looking for a retreat outside the town.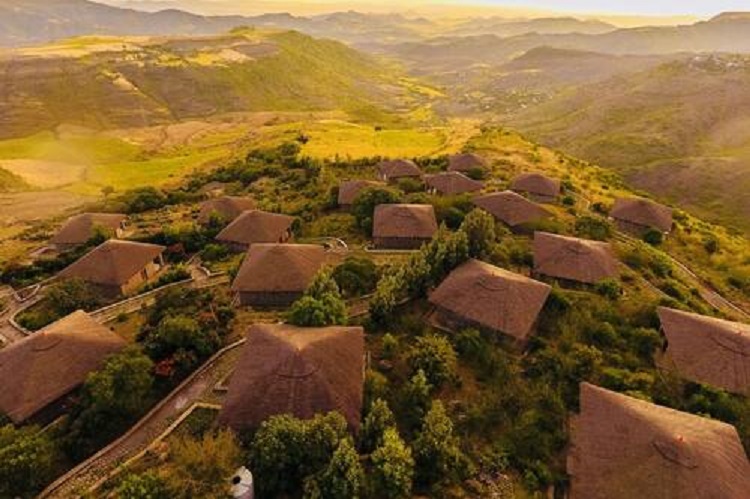 Maribela Hotel, Lalibela
One of Lalibela's best hotels, Maribela is highly praised for its friendly and attentive staff, appealing traditional décor, atmosphere and location from where there are sweeping views over the surrounding countryside. The comfortable hotel is set on an escarpment with sweeping views over spectacular surrounds. The comfortable, individually decorated rooms have en-suite facilities and a private balcony or patio. In the spacious, airy restaurant, delicious meals, including traditional dishes, are served. The proprietor actively supports a local women's cooperative as well as service training programmes.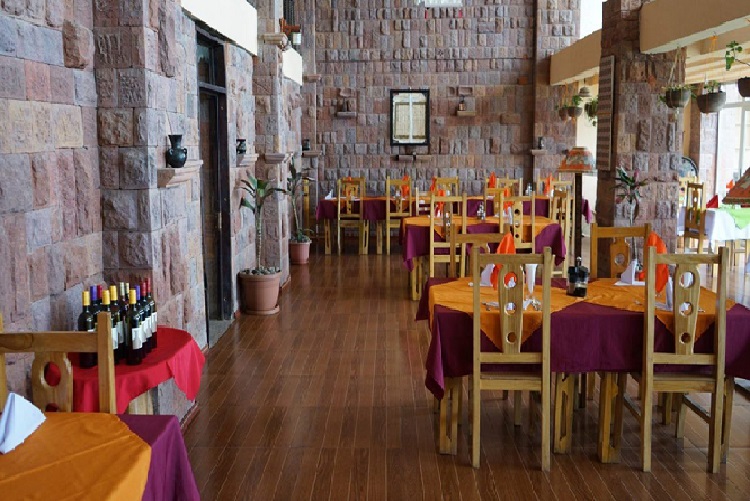 Gondar Hillis Resort, Gondar
high on the hillside with panoramic views of the historic town of Gondar, as well as the surrounding countryside, Gondar Hills Resort is a new and modern hotel, a great indication of the modernisation and innovation that is coming to Ethiopia's accommodation scene. At 72 rooms it is a large property by the country's usual standards, but the rooms are well spread through the large footprint of the hotel so guests never feel like the property is overly busy, even when it is full. The rooms are very spacious and comfortable, with floor to ceiling glass doors to maximise the views out across the city and shaded terraces at the front which are perfect for relaxation.  With the castles and churches of Gondar just a short drive away, this hotel is the perfect base for exploring the town before returning to the most spacious and luxurious hotel that it has to offer. A great choice and one that we heartily recommend.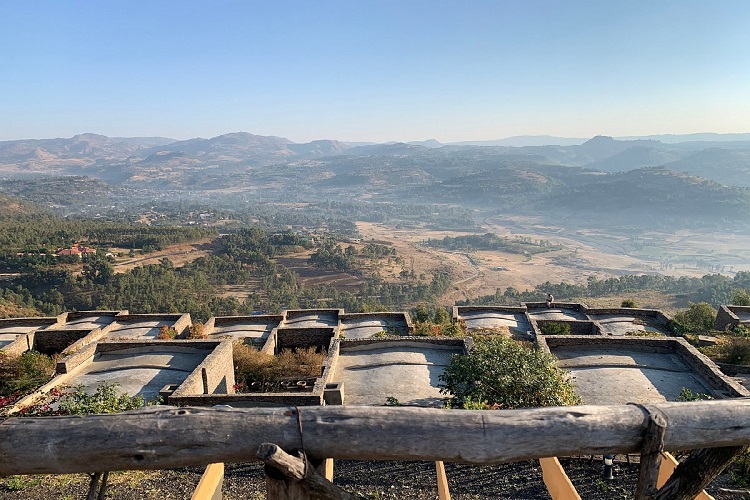 Goha Hotel, Gondar
Hotel offers one of the the best accommodation available in Gondar. It is located about 3km from Fasil Ghebbi and Fasalisas' Castle. The main selling point is its hilltop location – guests enjoy sipping sundowners from the terrace, while taking in the views over the town as majestic Lammergeiers soar overhead. The hotel is a stone building, with comfortable rooms that have undergone extensive renovation, incorporate colourful traditional décor. Each room has an en-suite bathroom. The six suites have exposed stone walls and sitting areas. As with most of Ethiopian accommodations outside of the capital, Wi Fi for the most part is accessible only in the main building/restaurant. Meals are taken in the open-air restaurant with Ethiopian and international dishes on offer. There is a well-maintained pool with sun loungers, a pool table and massage service in the hotel.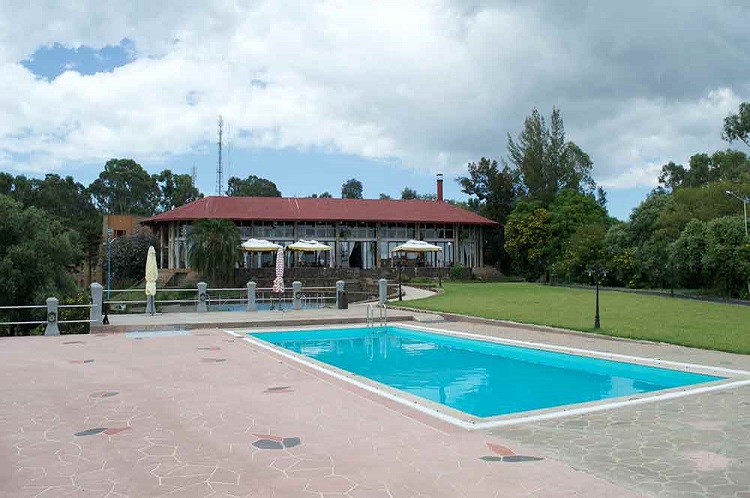 Simien Lodge, Simien Mountains National Park
Simien Lodge is our accommodation of choice for this impressive national park. Africa's highest-lying lodge sits on an impressive escarpment at an elevation of 3'300 m above sea level and is located inside the national park. While there is solar-powered under-floor heating in the rooms, guests should note that winter nights up in the mountains can be very cold; temperatures plummet to freezing as soon as the sun sets. The stylishly decorated, en-suite rooms are in round, thatch-roofed huts or tukuls. Each has comfy twin beds and a writing desk. Family rooms have two rooms and a bathroom; one of the rooms has a double bed and the other, twin beds. The highest bar in Africa has a neat restaurant serving traditional and European dishes and in the cosy lounge armchairs are arranged around the central fireplace.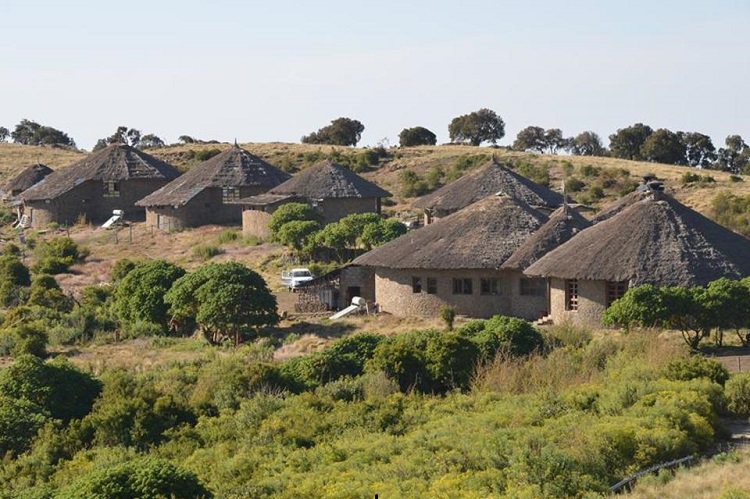 Limalimo Lodge, Simien Mountains National Park
If you want to gaze upon the Simien Mountains over a romantic champagne breakfast whilst the lowlands slowly come to life in the morning sun, then Limalimo Lodge is the place to be. In a country not known for its luxury accommodation, Limalimo is an exciting find indeed. Tucked away on the edge of an escarpment overlooking the Simien Mountains National Park, this striking contemporary lodge is minimalist yet stylish, with local building influences such as rammed earth walls and thatched roofs in abundance. Inside the bedrooms you'll find plenty of exposed wood and earthy-coloured furnishings that blend naturally with the surroundings, as well as large showers and bathroom views you won't forget in a hurry. The enormous picture windows in the restaurant really make the most of the spectacular views, and there are plenty of cosy spots to curl up and contemplate just where you are.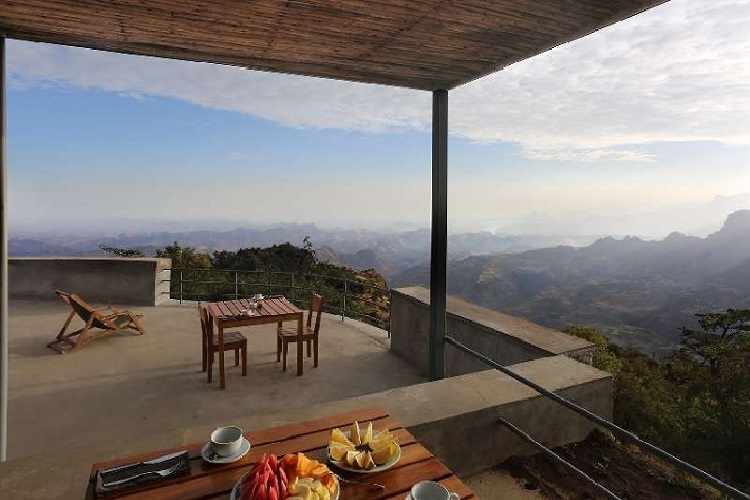 Haile Resort, Arba Minch
Found high on a forested hillside with views across the Great Rift Valley Lakes of Chamo & Abaya, the Haile Resort Arba Minch is the most modern property in the south of Ethiopia and a great start or end point for trips through the Omo Valley. There are 107 rooms here, making it one of the larger hotels you will find in the country, but that doesn't in any way detract from the quality of experience that it offers. Rooms are spacious, modern and comfortable with plenty of storage space and large en-suite bathrooms. Hot running water and Wi-Fi are both reliable, certainly not something that should be taken for granted in the south!  The excellent on-site restaurant serves a choice of international and Ethiopian cuisine, The sparkling swimming pool is a popular place to relax and take in the views out across the Rift Valley and is beautifully sited to take advantage of the spectacular sunsets that the area enjoys.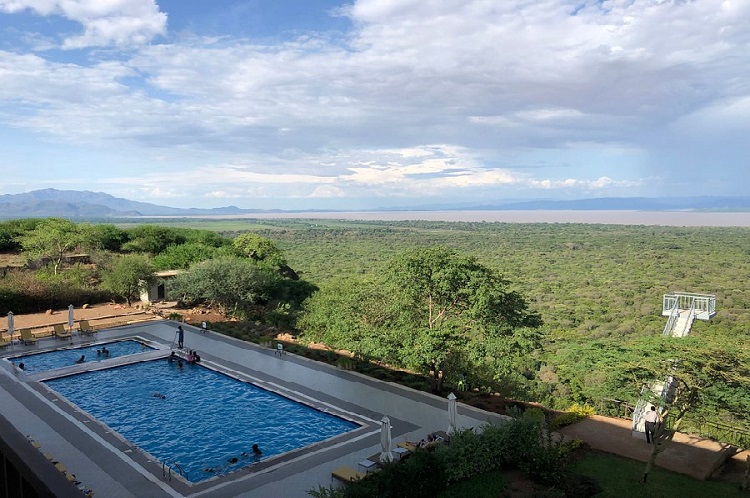 Bale Mountains Lodge, Bale Mountains National Park
Rural Ethiopia's finest lodge, Bale Mountain Lodge is a wonderful accommodation in the remote and beautiful Harenna Forest, which is part of the Bale Mountains National Park. There are 3 stone cottages near the Lodge, 5 tucked in the forest and a 'friends and family house' with 3 bedrooms –  for people travelling together with a central sitting room and an open fire. The large, stylish rooms have comfortable Menyetta beds, en-suite bathrooms and each is equipped with a wood-burning stove as nights can be chilly. The 'tree house' room is raised with spectacular views into evergreen forest with bamboo groves. The main dining, lounge and bar area are in a tukul with enormous windows designed to give guests the chance to take in maximum views of the magnificent surrounding forests. There is a set menu for lunch and dinner.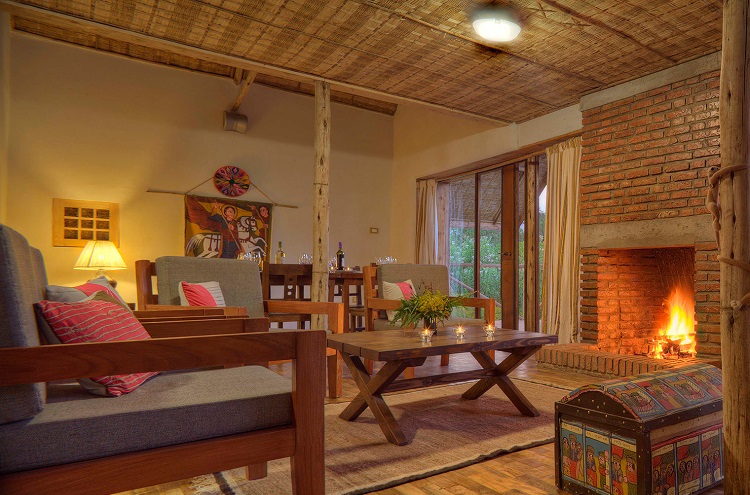 Golden Tulip Hotel, Addis Ababa
Very conveniently located just 1 km from Bole International Airport, this international 4-star hotel is currently our accommodation of choice for guests requiring an overnight stay in the capital. Here you'll find a combination of local hospitality and international service standards. Accommodation consists of 90 spacious rooms and suites, each with a modern, en-suite bathroom. All have air-conditioning, a fridge and mini-bar and Wi Fi access. The hotel also caters for business guests; its conference facilities can accommodate up to 200 delegates and close to the hotel are the AU Headquarters as well as international embassies. The Golden Tulip hotel has a fitness centre and gym and food at the hotel's Lemon Bar & Grill restaurant is excellent. Note that, in late January especially, many of the better hotels in the capital are booked up for AU conferences.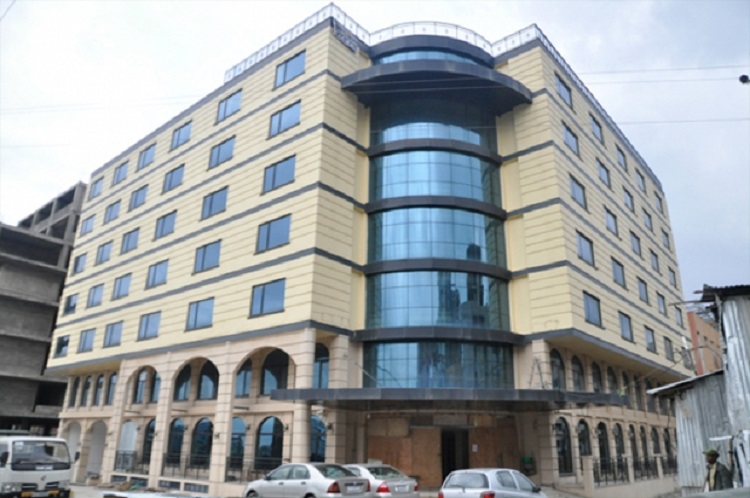 Sheraton Hotel, Addis Ababa
Sheraton Addis is an excellent choice for travelers visiting Addis Ababa, offering a romantic environment alongside many helpful amenities designed to enhance your stay. Given the close proximity of popular landmarks can easily experience some of Addis Ababa's most well known attractions. Located opposite the National Palace and the Prime Minster's residence, Sheraton Addis sits on a hill top overlooking the city with acres of space, providing excellent views of the Entoto Mountains and the Addis cityscape. Sheraton Addis is renowned for its luxury surroundings and warm hospitality, and its glittering pools, numerous gourmet restaurants and spa provide guests with several options to relax and indulge. Each room features African refinement with modern amenities, including timeless mahogany furnishings and complimentary tea and coffee served upon request in the mornings.