About this tour:
Discover the highlights of Djibouti, a little-known destination in the Horn of Africa that has the potential to become a major adventure destination soon. Djibouti offers incredible landscapes and numerous attractions in a small space. Relax on the magnificent Gulf of Tadjoura and visit unusual destinations such as Lake Assal and Lake Abbe. You will be surprised by the variety of landscapes, the many different attractions, and the friendliness of the people.
Highlights:
Exploring Djibouti City
Relax on the white beaches of the Tadjoura Gulf
Visit Lake Assal, which is 155m below sea level, marking the lowest point in Africa.
Discover the bizarre landscape around Abbe Lake, where you will see an eerie plain with limestone chimneys belching steam and making for sensational photos.
Included in the travel price
6 nights with breakfast
All ground transfers by program
English, German, or French speaking tour guide
All entrances and fees for national parks and attractions
All local guides, rangers, and scouts
Short Info:
Tour code: WET-HOA-7
Hotel Standard:  basic / middle-class hotels and lodges
Number of domestic flights: 0
Required fitness level: fairly fit and heat tolarability
Day 1: Arrival in Djibouti city
You will be met by our representative at the airport and taken to your hotel where you can recover from the flight. Depending on your arrival time, we can start exploring the city.
Accommodation: Hotel, Djibouti city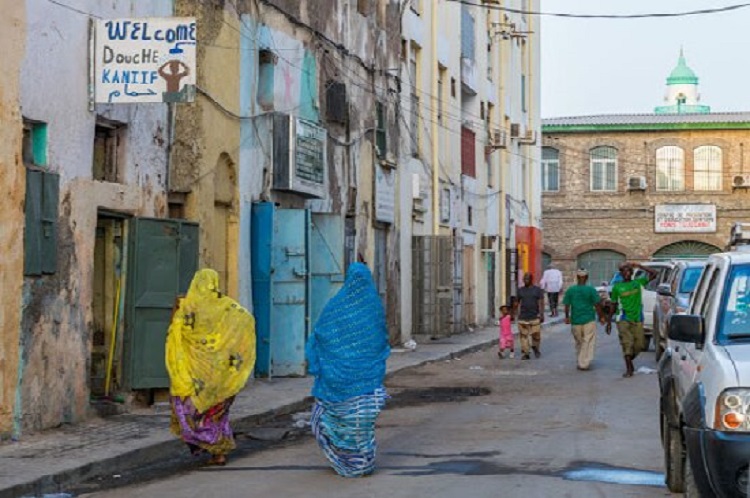 Day 2: Excursion to Maskali & Moucha Island or swim with whale sharks at Arta Plage
It's a full-day excursion today, so treat yourself to a sleepy little beach dotted with rustic shacks for shade and relax away from the hustle and bustle of Djibouti City. In addition, these islands offer excellent reefs for spectacular snorkeling. From November to January, Djibouti is also one of the easiest places on earth to spot whale sharks! These gentle giants feed on the high concentrations of plankton around Ras Eiro and Arta Plage and you can swim and snorkel with them! Whale sharks are, simply put, a shark the size of a whale and the largest fish in the world! In Djibouti you can see whale sharks with a length of up to 8m and a mouth of 1m… but fear not, despite their size, whale sharks feed on the smallest things in the sea and their friendly and playful nature makes swimming and Snorkeling with them is an unforgettable experience.
Accommodation: Hotel, Djibouti city
Day 3: Djibouti city – Lake Assal – Lake Abbe
We continue to Lake Assal, 155m below sea level, a spectacular crater lake surrounded by dark, dormant volcanoes. We will enjoy a fantastic swim in the "Dead Sea" of Africa, which is also the lowest point on the African continent. The aquamarine water is surrounded by a white salt field in stark contrast to the surrounding black lava fields – an incredible sight! Our final destination for today is Lake Abbe, where you will see an eerie plain of limestone chimneys belching steam and making for sensational photos.
Accommodation: Lake Abbe Camp
Day 4: Lake Abbe – Tadjoura
Early in the morning we take a short hike through the limestone chimneys around Lake Abbe. With a bit of luck, we will also see large flocks of flamingos. Then it's back to Lake Assal (110 km) and the small coastal town of Tadjoura on the Gulf of Djibouti.
Accommodation: Hotel Sables Blancs, Tadjoura
Day 5: Beach Day at Wihte Beach, Tadjoura
Today we relax the whole day at the pristine "White Beach" at Tadjoura. Well-deserved after the hot days in the desert. We spend the night in a simple, pretty guesthouse right on the beach.
Accommodation: Hotel Sables Blancs, Tadjoura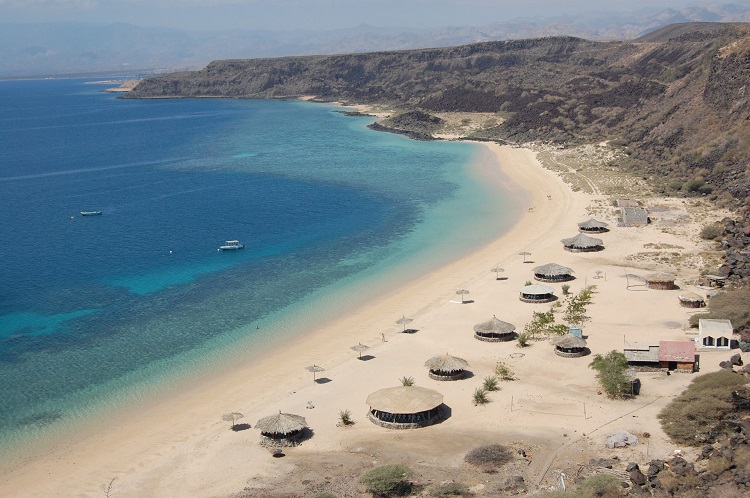 Day 6: Tadjoura – Ardokouba Volcano – Djibouti City
We drive along the idyllic Gulf of Djibouti back to Djibouti City. On the way we will visit the Ardoukoba Volcano which is located on the coast near Lake Assal. Formed from a volcanic fissure, the 298-meter high Ardokouba consists of a pile of basaltic scoria forming three cones. You can climb up to the crater of the volcano and walk on the dark lava flows that still seem warm despite being thousands of years old. Accommodation: Hotel, Djibouti City