Southern Ethiopia (7 days)
About this Tour:
This tour is ideal for travellers who want to explore Ethiopia's South with its fantastic landscapes and unique tribes of the Omo Valley within a short trip. This tour can be perfectly combined with any of our other Ethiopia tours or with a beach holiday or safari in East Africa.
Highlights:
Stelae of Tyia (UNESCO world heritage site)
Boat Safari on lake Chamo with Africa's biggest crocodiles, hippos and numerous bird species
Mago National Park and Omo Valley (UNESCO world heritage site) with unique tribes
Visit of the colourful markets of Key Afer and Dimeka in the Omo Valley
Authentic encounters with locals during visits of several communities
Visit of the Konso region (UNESCO world heritage site)
Included in the travel price 
6 nights with breakfast in hotels and lodges as agreed at the time of booking
Road transfer in Toyota minibus or 4x4 Landcruiser with experienced tour driver and fuel
2 domestic flights with Ethiopian Airlines (discounted tariff if your international flight is with Ethiopian Airlines)
Professional tour guide (English, German, French, Italian and Spanish-speaking available)
All local guides, rangers and scouts as required
All entrance fees
Boat trip on lake Chamo
Traditional dinner on the last evening before departure
1 liter of mineral water per day
Short Info:
 Tour code: WET-SE-7
 Hotel standard: can be chosen as basic, medium or high standard
 Number of domestic flights: 2
 Required fitness level: no requirements
Day 1: Arrival in Addis Ababa and City Tour
Upon arrival at Bole International Airport, you will be transferred to your reserved hotel. Depending on your arrival time, we have various sightseeing options:
Mount Entoto with the best views over the capital.
Institute of Ethiopian Studies, where you can see a variety of artifacts from all the different regions reflecting the history and culture of the country
National Museum which among other exhibits the 3.5-million-year-old bones of Lucy.
Trinity Cathedral: this is the burial place of members of the imperial family and noted patriots; the cathedral is the most magnificent of its kind in the country, ornamented with carvings, mosaics and other artistic works.
The Mercato, the largest open-air market in Africa
Accommodation: Hotel, Addis Ababa
Day 2: Addis Ababa – Arba Minch (Flight)
Morning:
You will be transferred to the airport in time for your departure to Arba Minch, where you will be met at the airport by your guide and vehicle and be transferred to your hotel.
Afternoon:
Enjoy an afternoon at leisure with stunning views from your lodge.
Accommodation: Lodge or Resort, Arba Minch
Day 3: Arbaminch – Lake Chamo – Dorze Village – Arba Minch
Morning: Boat safari on Lake Chamo
We undertake a boat safari on lake Chamo and search for Africa's biggest crocodiles (up to 6m long), hippos and a large variety of bird life.
Afternoon:
After lunch, we will visit Dorze people with some fantastic scenery, including the Wolayta farmlands, with views of the lush green hills and valleys. The Dorze village is found high in the Guge Mountains overlooking Lake Abaya and Lake Chamo.
Accommodation: Lodge or Resort, Arba Minch
Day 4:  Arbaminch –  Konso – Key Afer Market – Jinka (240 km)
After breakfast, we drive to Konso approx. (travelling time 3.5 hrs.). Konso is another UNESCO Cultural Heritage site. We will visit the village compound and the local museum, and usually are also welcomed in the Konso chief's compound, which includes the family graveyard and house mummies. The Konso people have a rich agrarian culture and construct ingenious terraces and walls that encircle their fields and villages for protection against livestock damage and flooding.
From Konso we continue our journey to the colourful market of Key Afer (Thursdays only) frequented by several tribes of the Omo valley, such as Derase, Tsemay, Benna and Ari, before reaching Jinka in the late afternoon.

Accommodation: Hotel or Lodge, Jinka
Day 5: Jinka – Mago National Park (Mursi) – Turmi (160 km)
Morning:
We enter the Mago National Park (travelling time approx. 2hrs), admiring different animals and birds on the way; and proceed to visit to the Mursi tribe and their villages. One of the most unique tribes in Africa. Here women use huge round lips plates for beauty reasons
Afternoon:
After lunch, we continue our trip to Turmi (approx. 3 hrs), where we will meet the fascinating Hamer tribe. Turmi serves as our base to explore the tribes of the Southern Omo Valley. The whole region of the Southern Omo has been declared a UNESCO world heritage site since 1980.
Accommodation: Lodge, Turmi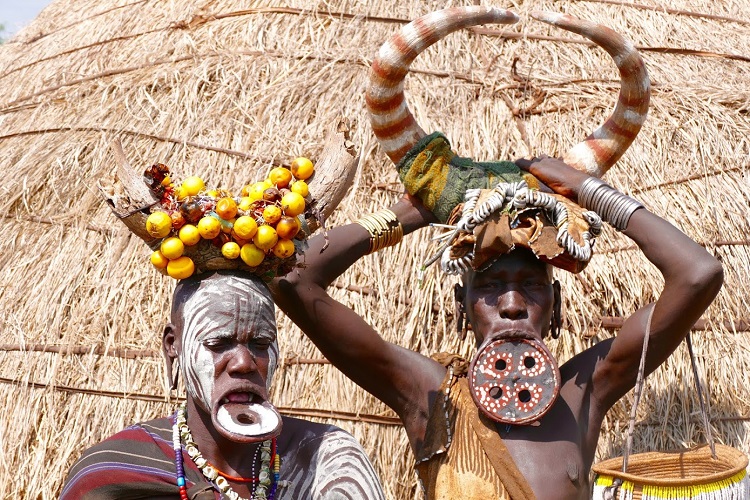 Day 6: Turmi – Dimeka Market – Turmi
Morning:
After breakfast, we visit the colourful market in Dimeka near Turmi (Saturdays only), frequented by several tribes of the Omo valley.
Afternoon:
Turmi is well known for its traditional events and with some luck we will even participate in a Hamer marriage ceremony, with its bull jumping ceremony and more! In the late afternoon, we will also visit a nearby Hamer village and encounter the tribe in its daily life surroundings. With some luck, we may even witness a moonshine dance (Evangadi), a traditional dance of young Hamer men and women.
Hotel: Lodge, Turmi
Day 7: Turmi – Jinka – Addis Ababa (flight)
Morning / Afternoon:
After breakfast, we drive back to Jinka (approx. 3 hrs.), where you will take the flight to Addis Ababa. On the way to Jinka, we will make a short stop at the colourful Saturday market in Dimeka (time allowing). In Addis Ababa you will be transferred to your hotel, where a day room will be reserved for you until 6 pm.
Evening:
You are invited for dinner at one of the famous cultural restaurants in Addis Ababa with music and dance. After dinner you will be taken to the airport for departure or, if you are still staying in Addis Ababa overnight, back to your hotel.
Accommodation: Hotel, Addis Ababa or Departure