Trekking in the Bale Mountains (10 days)
About this tour:
Bale Mountains National Park is an area of high-altitude plateau that is broken by numerous spectacular volcanic plugs and peaks, beautiful alpine lakes and rushing mountain streams that descend into deep rocky gorges on their way to the lowlands below. As you ascend into the mountains you will experience changes in the vegetation with altitude, from juniper forests to heather moorlands and alpine meadows, which at various times of year exhibit an abundance of colourful wildflowers. Bale Mountains National Park is also the largest area of Afro-Alpine habitat in the whole of the continent. On this spectacular trekking tour, you will experience scenic landscapes and the chances to view many of Ethiopia's endemic mammals, in particular the Mountain Nyala and Semien Fox, and many birds, amongst them the Thick-billed Raven and Wattled Ibis.
Highlights:
Exploring the capital Addis Ababa
Overnight at the shores of the Rift Valley Lake of Langano
Spectacular 6-day trekking in the Bale Mountains National Park
Included in the travel price
3 nights with breakfast in simple, middle-class or high-end hotels and lodges
6 nights camping with full board during the trek
All road transfers in minibus or 4x4 Landcruiser
1 domestic flight with Ethiopian Airlines (discounted tariff if your international flight is with Ethiopian Airlines)
English speaking tour guide and hiking guide
All local guides, rangers and scouts
Cook and camp assistant for the camping nights
High quality camping equipment
All entrance fees
Short Info
Tour code: WET-TBM-10
Hotel standard: medium or high-end hotels, camping during the trekking
Number of domestic flights: 1
Required fitness level: Need to be in good shape
Day 1: Arrival and Addis Ababa City Tour
Upon arrival at Bole International Airport, you will be transferred to your reserved hotel. Depending on your arrival time, we have various sightseeing options:
Mount Entoto with the best views over the capital.
Institute of Ethiopian Studies, where you can see a variety of artifacts from all the different regions reflecting the history and culture of the country
National Museum which among other exhibits the 3.5-million-year-old bones of Lucy.
Trinity Cathedral: this is the burial place of members of the imperial family and noted patriots; the cathedral is the most magnificent of its kind in the country, ornamented with carvings, mosaics and other artistic works.
The Mercato, the largest open-air market in Africa,
Accommodation: Hotel, Addis Ababa
Day 2: Addis Ababa– Lake Langano (200 km)
After Breakfast, we drive to Lake Langano (approx. 4 hours). You may relax on the beach (swimming is possible), take a walk through the lodge and encounter wild animals such as Warthogs or Olive Baboons in front of your bungalow. The lodges can arrange many activities such as trekking through the nearby forest, mountain biking, bird watching, fishing, hippo spotting or horse riding.
Accommodation: Lodge, Lake Langano
Day 3: Lake Langano – Dinsho (250 km)
After breakfast, we continue our journey through Shshamane to Dinsho, where the headquarters of the Bale Mountains National Park are located (approx. 5 hours).  In the afternoon we undertake a gentle, very interesting walk around the headquarters in Dinsho and almost certainly encounter animals such as warthogs, the endemic Menelik bushbuck or the Mountain Nyala as well as a variety of birds.
Overnight: Dinsho Campsite
Day 4: Trek from Dinsho to Sodota (18 km)
Today we trek from Dinsho through the Web Valley towards the Fincha Habera waterfall, where the Web and Wolla rivers meet. In this area, we have our first chances to see the endemic Ethiopian Wolf, as well as raptors, rock hyrax and many more species. After refreshing us at the pleasant waterfall, we continue to Sodota.
Overnight: Sodota campsite
Day 5: Trek from Sodota to Keyrensa (20 km)
Today we continue our trek through magic landscapes to the Keyrensa campsite. Again, we have very good chances to spot a variety of bird species, particularly raptors, as well as he Ethiopian wolf.
Overnight: Keyrensa campsite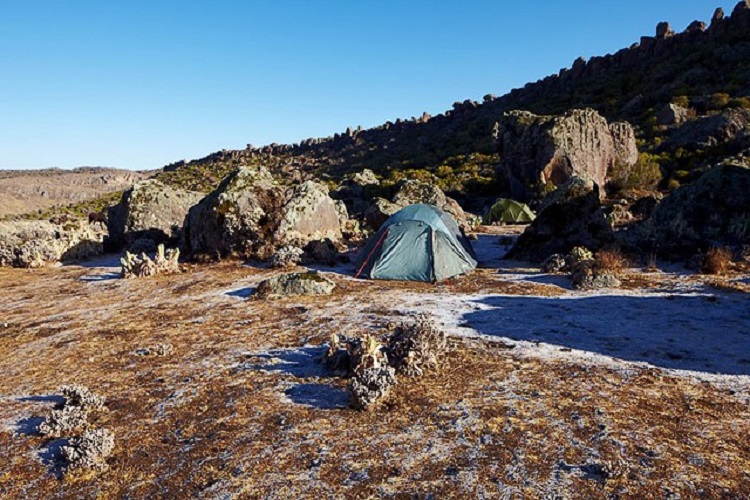 Day 6: Trek from Keyrensa to Rafu (20km)
Today the way will be steep climbing up to the Rafu campsite. We then will pass by the volcanic rock pillars near Rafu from where we enjoy spectacular panoramic views. On the way we should see Rock Hyrax, birds of prey, cliffs springer and others mammals.
Overnight: Rafu campsite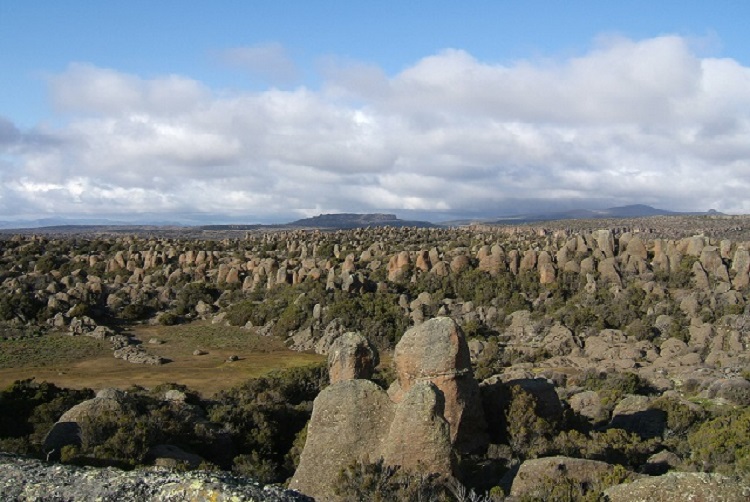 Day 7: Trek from Rafu to Gerba Guracha (22km)
Today we have a long trek through the largest Afro alpine part of the
African Continent, the Senneti plateau, ahead. After we reach our campsite, we will take a walk around the biggest lake in the Bale Mountains, called Gerba Guracha or "Black Lake". A variety of water birds usually stay around the lake.
Overnight: Gerba Guracha campsite
Day 8: Trek from Garba Guracha to Senetti (17 km)
Today it will take us approx. 5-6 hrs to explore the Senetti Plateau, usually the best place to see the Ethiopian wolf. We also will have a chance to visit
the Crane Lakes and climb the 2nd highest point of Ethiopia "Mount Tullu Deemtu," offering at an altitude 4377 m spectacular views of the surrounding areas. Highland birding includes the Abyssinian Catbird, Abyssinian Woodpecker, White-backed Black Tit, Abyssinian Ground Thrush, Yellow-crowned Canary, Somali Chestnut Winged Starling, Olive Pigeon and Mountain Buzzard.
Overnight: Camp at Senetti Campsite
Day 9: Senetti – Harenna – Goba (or Bale Mountains Lodge)
After breakfast, we will be met by our vehicles and we will drive from the Senetti plateau down to Harrena forest (the largest rain forest in Ethiopia), the southern part of the national park holding a unique vegetation and animals. We explore parts of the prestine Harenna forest on foot and hopefully spot the endemic Bale monkeys as well as Colobus monkeys. In the late afternoon we will drive to Goba, where we will spend the night at the hotel.
Accommodation: Goba Wabeshebele Hotel, Goba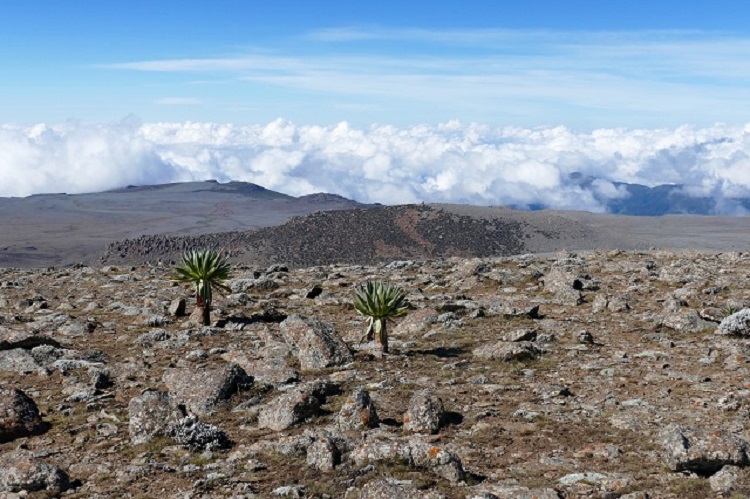 Day 10: Goba – Addis Ababa (flight)
We fly back from Goba to Addis Ababa. You will be transferred from the airport in Addis Ababa to your hotel (a day room until 6 pm will be provided). In the evening, you are invited to a traditional Ethiopian dinner and dance at a renowned restaurant of Addis Ababa. After dinner, you will be transferred to the airport for your international departure or, if you are still staying in Addis Ababa overnight, back to your hotel.

Accommodation: Hotel in Addis Ababa or Departure